Arctic Charr is arguably the most exquisite freshwater fish in the world. Commonly weighing between two and ten pounds, arctic charr is a rare fish species primarily found in deep, cold, glacial lakes. It is a lovely fish; fine flaked, pink-fleshed, and jam-packed with nutrition and flavour. Being a cold-water fish, arctic charr is a naturally rich source of Vitamin D and omega fatty acids. A close relative to lake trout and salmon, this delectable fish shares many attributes of both. It is the only freshwater fish to be found as far north as the Canadian Arctic.
The Arctic Charr industry is heavily invested in ocean-friendly business ethics. To ensure they are setting the standard for responsible, long-term sustainable and environmentally friendly aquaculture practices, the Arctic Charr industry is recognized by Ocean Wise, the Environmental Defense Fund, and more. Fish Lake Road's fish-farming partners are all inspected by the Canadian Food Inspection Agency, in a federally approved HACCP-certified processing plant. In the pet industry, it is not common to find manufacturers who go to these lengths, which is a glowing reflection of Fish Lake Road's commitment to quality and care.
For decades, arctic charr has been used by competitive dog sledders striving for sustained peak pawformance. Now, Fish Lake Road brings the world's most northernmost fish straight from the Yukon, right to your pet's treat cupboard. Fish Lake Road's Arctic Charr Pet Treats are gently air-dried, and include all parts of the fish, including skin, bones, and organs. This allows pet owners to safely offer the whole fish taste that dogs crave, without the pungent fishy smell.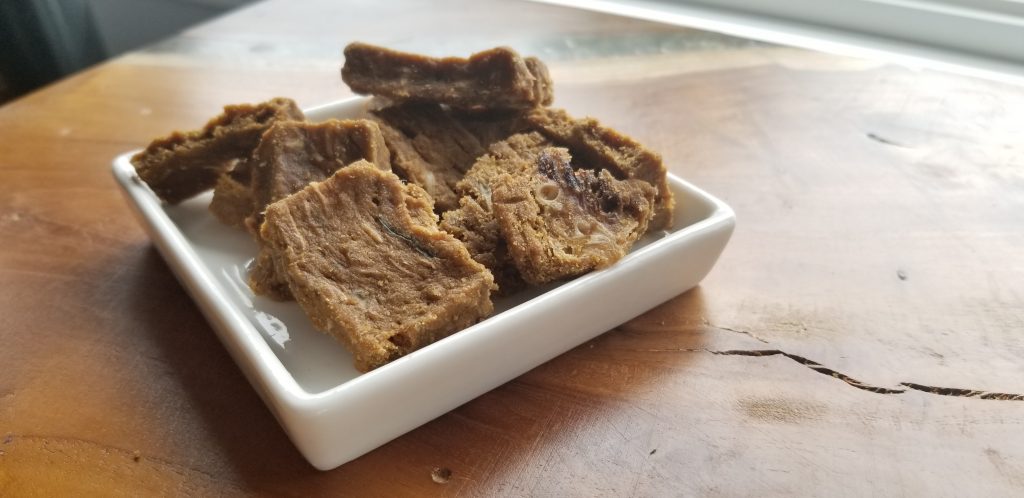 Arctic Charr Pet Treats are naturally preserved, and formulated from one ingredient, fresh Yukon arctic charr. It is an ideal treat for picky pets, including dogs, cats, and even ferrets! They are easily breakable into smaller pieces without being crumbly, making them a smart choice as dog training treats. Arctic Charr Pet Treats are ideal for positive redirection dog training, as their exceptional palatability ensures consistent, uninterrupted attention between dog and handler.
These treats are truly one of the finest quality pet treats in the world. Here are some of their best features:
A truly unique treat, made from all natural Arctic Charr from the Yukon
Born from increased demand from championship dog-sledders
A  nutrient-dense, flavour-rich fish that both dogs and cats can't resist
All natural, even including pieces of bone, skin, and organs
The only treats available that are made from this type of fish
It is rare that a new and innovative treat hits the pet market in Canada, but Arctic Charr Pet Treats are doing just that. In fact, they're the first treats in Canada to offer this unique, high quality fish. Being a single ingredient treat, Arctic Charr Treats are ideal for pets with protein allergies, food sensitivities, or pets requiring a limited-ingredient diet. It is a wonderful hypoallergenic treat, with high digestibility, and superior nutritional value. To keep freshness locked in, Arctic Charr Treats come in a handy 150g resealable bag.