In Canada, there are lots of innovative high quality joint supplements for dogs. While some of them use new and promising ingredients to improve the process of joint repair, many of these ingredients are unproven. However there are four ingredients that any high quality  joint supplement should contain: Glucosamine, Chondroitin, MSM, and Hyaluronic Acid.
How Glucosamine Helps Dog's Joints
Glucosamine is a naturally occurring substance that is most commonly sourced from the shells of shellfish. It boosts natural repair of cartilage, which is the wet, spongy material found in between joints. It acts as a cushion between each joint, preventing bones from rubbing together.
When cartilage wears too thin, inflammation happens. This also causes enzymes to be released that quickly affect the quality of the cartilage and also the joints. Feeding your dog a steady supply of glucosamine helps to ensure the cartilage has everything it needs to repair and maintain itself.
Glucosamine is produced naturally in your dog's body. However, as your dog ages, his natural glucosamine production slows down. This is why it is so common for older dogs to develop joint problems. Providing your dog with a natural source of glucosamine in their diet is important for proper joint maintenance, and to prolong their mobility.
How Chondroitin Helps Dog's Joints
Chondroitin is commonly found paired with glucosamine in joint health products for dogs, as it helps to maintain proper moisture levels in cartilage. This helps cartilage to stay elastic, which is important to prevent injuries. It usually comes from bovine cartilage, but can also come from shark cartilage. Shark cartilage has not been proven to show any significant advantage over bovine cartilage for pets, however. Like glucosamine, chondroitin has been shown to stop or decrease the development of inflammation in your dog's joints. Plus, it's scientifically proven to greatly reduce joint pain in dogs.
How MSM Helps Dog's Joints
MSM, also known as Methylsulfonylmethane, is a naturally occurring form of sulfur that comes from several processes involving phytoplankton. However, most commercial MSM is created through chemical processes in a laboratory or manufacturing facility. It has been proven to significantly decrease the pain associated with degenerating joints. It is also used for a variety of other ailments, as it can have a significant, positive impact when treating things like diabetes, cancer, autoimmune disease, neurological disorders, and more.
How Does Hyaluronic Acid Help Dog's Joints
Hyaluronic Acid is naturally occurring in the body, and like other important compounds, natural production can decrease with age. It lubricates the joints by binding with moisture to create a jelly-like substance. It then coats the joints to help keep them moist and malleable. This creates better shock absorption for your dog as he runs, walks, and moves up and down. This ingredient comes from the cartilage of chickens and rooster combs. It has become very popular in recent years in joint supplements for both dogs and cats, and also for horses. 
What are the Best Joint Supplements for Dogs?
This innovate new product is rapidly growing in demand across North America. It's made with fortetropin, a unique ingredient made from fertilized egg yolks. Not only can it greatly improve joint health, but it is also clinically proven to increase muscle mass and to help expedite recovery from surgery or injury. It is made in North America.
It's completely free from artificial ingredients, including dyes, preservatives, and flavours. This all natural product is unique in the North American pet marketplace, and is quickly growing in popularity due to significant results. In fact, it's highly recommended by Veterinarians, dog trainers, and other pet health professionals.
These innovative soft chews are quickly becoming a favourite amongst Canadian pet owners with dogs suffering from joint health and mobility issues. These soft and tasty chews are made with key active ingredients like glucosamine, MSM, chondroitin sulphate, hyaluronic acid, certified organic hemp oil, and more. In fact, they have higher concentrations of these vital ingredients compared to most joint supplements on the market. Plus, these soft chews include EPA and DHA from fish oil for an anti-inflammatory boost.
While a Canadian-owned brand, these treats are currently manufactured in the USA. This decision was carefully made to meet Brad Pattison's exceptionally high standards for product quality. As a result, these soft chews are made in an FDA-registered facility; Good Manufacturing Practices compliant, compliant with the Food Safety Modernization Act, and is even a preferred supplier for the National Animal Supplement Council (NASC).
These cheese and bacon flavoured soft-chews make supplementing a breeze compared to powdered hip and joint supplements.  It's quite uncommon to find this volume of active ingredients in treat form, making this product unique. They don't have any ingredients from China, and it is evident that the ingredients in these treats have been very carefully chosen. This award-winning supplement delivers an impressive, easy to feed soft chew that dogs love. They are GMO free, poultry free, gluten free, and highly effective at relieving the symptoms of pain, inflammation, and joint discomfort. They are also great for cats, too!
Read our full review of the Brad Pattison Pet Wellness brand here.
This is a new product on the Canadian marketplace, that was carefully designed by Ontario Veterinarians and Naturopathic Doctors. This all-in-one formula  optimizes joint health, and also works to improve skin and coat condition. It includes innovative ingredients like magnesium biglycninate, which works to reduce inflammation while promoting optimal health.
Quatro-Active has exceptionally high concentrations of methyl sulfonyl methane (MSM), chondroitin, and also includes two active forms of glucosamine. It comes in a powdered form that is easy to serve by simply sprinkling it onto your dog's food. This formulation is free from any fillers, including corn, wheat, soy, dairy, or artificial ingredients.
Tri-Acta by Integricare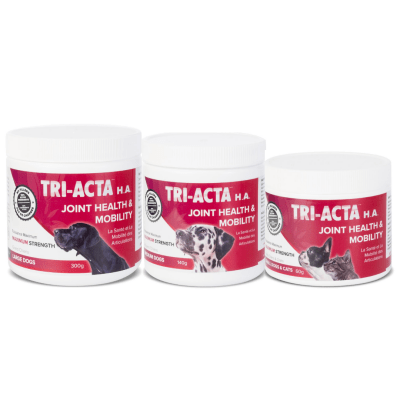 One supplement that has been on the Canadian marketplace for almost 20 years, and continues to shine as the best joint supplement for dogs, is Tri-Acta. Manufactured by Integricare, this exceptional product is made with all of the above mentioned ingredients; glucosamine, chondroitin, MSM, and Hyaluronic Acid. There are no fillers, preservatives, or any unnecessary ingredients. Every ingredient is carefully sourced, too.
Tri-Acta is available in two different formulas: regular strength and extra strength.
Regular Strength Tri-Acta is made with glucosamine, chondroitin, and MSM. It does not contain hyaluronic acid.  This formula is most commonly used pro-actively, as a joint aid for adult pets or those who are in the early stages of showing joint mobility problems. Regular Strength Tri-Acta is designed to efficiently maintain collagen and connective tissues, promote healthy cartilage development, decrease stiffness and mild mobility problems, and also to protect the joint tissues in both dogs and cats.
Extra Strength Tri-Acta is the same great formula as regular strength, but it also contains hyaluronic acid. It is designed for cats, dogs, and also horses who are showing increased mobility problems to do joint degeneration, arthritis, and more. Unlike regular strength, it is also available in large bulk containers weighing 1 kg or 3 kg.
Extra Strength Tri-Acta is designed to expedite the formation of new, healthy cartilage in the joints. It effectively eliminates inflammation in the joints, which decreases pain and increases mobility.
Of all of the supplements on the market, Tri-Acta has consistently shined as an effective and reliable joint supplement for pets.
This product just recently came onto the Canadian marketplace, however it is developed by a trusted brand with a healthy track record. Joint Health Complex is similar to Tri-Acta in that it is made with glucosamine and chondroitin. However, it also introduces two new, potent ingredients for promoting joint health: Collagen and Green-Lipped Mussel.
Collagen in this formula has been carefully sourced from free range cows in Argentina. It contains 18 different amino acids that form the building blocks for collagen production in the body. Collagen is the main component in your pet's joints, so it's great to see it making its way into such a high quality, all natural joint supplement.
The Green-Lipped Mussel in this product is sourced from New Zealand, and is the highest quality available on the marketplace. It contains ingredients that work to protect the joints, including glycosaminoglycans, special omega-3 fatty acids known as ETA, and also a unique kind of glycogen. It is very carefully dehydrated to retain all of its' original benefits, too.
Joint Health Complex is free from fillers, binders, artificial dyes, or any other unwanted ingredients. It contains only the active ingredients that your dog or cat needs to build and maintain happy, healthy joints.
While CBD oil is not designed to repair joints, it can have a significant effect on the reduction of inflammation and pain. It is recommended to pair a good quality joint supplement with a CBD oil based product, as together they have maximum impact on your pet's quality of life.
CBD, or cannabidiol, is a cannabinoid that is found in both marijuana, and it's sister plant, hemp. Most commercial CBD-infused pet products are made from the hemp plant. CBD oil safely and effectively reduces joint inflammation, and can be up to twice as effective as prescription medications. It is also an all natural product, and does not come with many of the unwanted side effects of prescription medications.
What Joints do Supplements Help?
It is commonly known that joint supplements can work wonders for pets suffering from joint pain in their knees and elbows. But joint pain can affect other parts of your dog's body, too. This includes the shoulders, carpus, hips, and also the joints in between the vertebrae of the spine.
What Are the Symptoms of Joint Pain?
Joint pain symptoms in dogs can be tricky to spot at first. Because dogs are a pack animal, they tend not to show the symptoms of pain until they can no longer contain it. The initial symptoms include:
Decreased exercise

Less mobility, lack of interest in walking or running

Inability to jump or climb onto the couch, into the back of an SUV, etc

Difficulty climbing stairs

Limping, favouring one foot over another

Wincing when being touched on the back, or on any area that is sore
Please keep in mind that this is not an exhaustive list, and symptoms may vary from dog to dog. Cats suffering from joint pain will generally spend much more time on lower levels, rather than jumping up onto furniture or higher surfaces. They will often spend more time sleeping or resting than usual, as well.
What Dogs Breeds are Prone to Joint Problems?
While it varies from dog to dog, a general rule of thumb is that larger, more active breeds tend to be much more likely to develop joint problems. Certain dog breeds have a high genetic predisposition towards joint health problems, as well. Bernese Mountain Dogs, for example, are highly likely to develop joint problems in their hips and elbows. Rottweilers, as another example, are much more likely to develop joint problems in their knees and ankles.
If you are considering adopting a larger breed dog, whether an adult, senior, or a puppy, do your research into the breed first. Understand that potential joint health problems that they are likely to experience, and choose a good quality joint health supplement so that you can be proactive about their joint health.
Being aware of your dog's health at all times is paramount. Oftentimes, dog owners do not introduce a joint health supplement until there is a need, and their pet is already in some state of discomfort. While introducing a high-quality joint health supplement at any time is a great idea, doing so after the fact is a reactive measure. Prevention is the key, here. Knowing your dog's genetic predispositions, and factoring in their individual lifestyle will help dictate what joint-health measures are best to take.