Description
Safely maintains open water to -20°F
Natural color and 18″ cord blend in with nearly every birdbath
Virtually indestructible
May be spray painted any color
Durable enamel finish is easy to clean
Thermostatically controlled, using only 50 or 80 watts
Completely safe to handle and use, even in plastic birdbaths
MET Listed
3 year warranty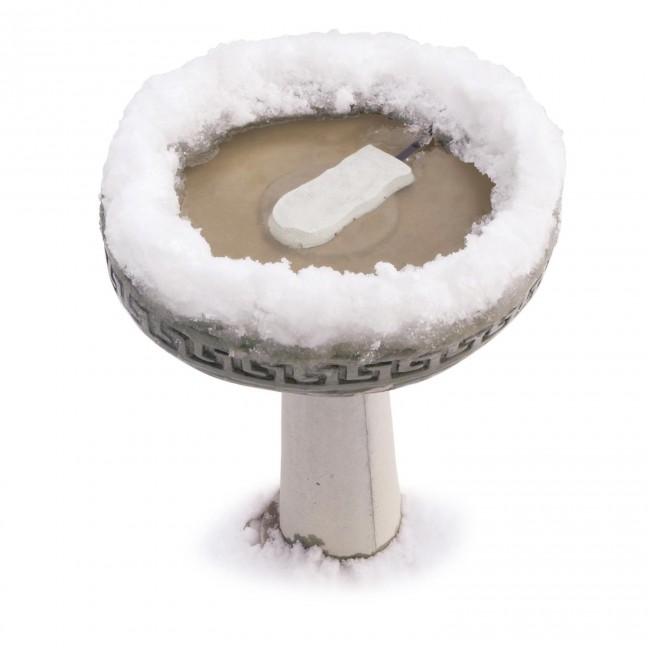 Being available in 2 different wattages and having our original unique design aren't the only reasons Ice Eliminator is a best seller. Our solid aluminum housing keeps the unit from falling out of the birdbath and the attractive rock-like design blends naturally with any birdbath. Spray paint any color to match any birdbath. Will not calcify, rust, or leave stains in birdbaths. Won't burn or melt plastic birdbaths. Available in either 50 watts for standard baths or 80 watts for even the largest of bird baths. MET listed. Three year limited warranty.
Cord Length
1.5 ft.
Wattage
Ice Eliminator – 50 watts
Super Ice Eliminator – 80 watts
Safety Listing
MET
Dimensions
7″ x 3″ x 1″
Item Weight
1.3 lbs.
Handling
The Ice Eliminator is safe to handle when warm. However, it is recommended that you unplug it for cleaning.
Product-Specific Questions
Should I choose the 50 watt or 80 watt model?
The 50 watt model is appropriate for bird baths with 10 gallons of water or less. For baths with more than 10 gallons, please use the 80 watt model.
Can I turn the Ice Eliminator off at night and back on in the morning without damaging it?
Unplugging the Ice Eliminator continuously will actually wear the product out prematurely because it will cause the thermostat to regulate itself daily, which isn't good for the thermostat. We recommend keeping this item plugged in continuously. Also, this will prevent your bird bath water from freezing during the night. The Ice Eliminator must be submerged in water and submersion would be difficult if the bath water is frozen.
General Questions about Outdoor Heated Products
How long is the cord?
The cord is 18″ long.
Can I use an extension cord with this product?
MET requires that all manufacturers put the extension cord statement "Do not use with extension cord" on every item that is MET listed by UL 499 standards. This is because they cannot test every extension cord on the market in conjunction with our products for safety. Also, MET suggests that an extension cord is not recommended as a permanent fixture and should only be a temporary solution when using any electrical product.Temporary use of a UL listed cord is fine, but consult your electrician for the proper cord for your application. For more information on MET safety testing, please visit their website atwww.metlabs.com.
How long can a heated product be plugged in?
MET Safety Laboratories suggests unplugging the unit if you leave your home on an extended vacation, as they do with any electrical appliance. Otherwise, it is designed for 24/7 operation and you can leave it plugged in all day. This item has been certified by MET labs to adhere to strict electrical safety standards. For more information, please visit www.metlabs.com.
Is there an off/on switch?
There is not an off/on switch. The unit is always on when plugged in.