What is more synonymous with summer than road trips with family and friends? With the windows down, and the radio turned up, summer road trips make for some of the best life-long lasting memories.
And, what would a road trip be without your best four-legged friend tagging along to share in the adventure?!
What's The Safest Way To Travel With Your Dog?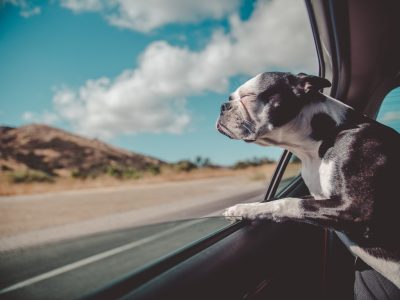 While more than half of dog owners in North America travel in a vehicle with their dog at least once per month, only fifteen percent use a proper vehicle restraint. Every year, thousands of dogs are injured in motor vehicle accidents, and only a small minority are adequately secured for optimal safety. Whether you are crossing town, or crossing the country, having the right equipment can not only save your dog's life, it may also save yours.
In the event of a motor vehicle accident, anything not secured becomes a projectile; your cup of coffee, your smartphone, and even your dog. For example, in a collision at 45km/h, an unrestrained 10lb Shih Tzu will exert roughly 500 pounds of force. An 80lb Labrador Retriever may exert a devastating 2,400 pounds of force during a collision at the same speed. At those speeds, anything living in the vehicle is at risk for potentially fatal injuries. This is precisely the reason why all dogs should be safely secured in a moving vehicle at all times.
Let's have a look at some of the most effective means of securing a dog inside a vehicle.
Seat Belt Restraints For Dogs
Seat belt restraints are the most popular method of vehicle security for dogs. This restraint consists of a well-fitted body harness tethered to either the seat belt itself, or by means of a strap that fits securely inside the seat belt buckle. Regardless of which method of securement you choose, it is the quality of the product itself that matters most. Vehicle safety products are not regulated, so there is a huge spectrum in the quality and design from one product to the next, too. The vast majority of vehicle safety harnesses on the market are not tested or certified by any third-party organization, so please keep that in mind when you're considering your options.
Be sure to look for potential weak spots in the product itself; is it made with weak-looking, plastic clips? What is the stitching like? How will the harness absorb and distribute energy from a collision on my dog's body? Thin nylon harnesses may excessively dig into a dog during a collision. Look for harnesses with a wide chest plate, which is the safest place for a dog to be restrained.
The best thing to do when looking for a vehicle restraint is to look for products with crash safety certifications. There are not many on the market, and they are more expensive, but they are well worth it when it comes to protecting your best friend.
Vehicle Barriers For Dogs
Vehicle barriers are commonly used to establish a secure area in the back of a vehicle, especially for dogs who like to jump to the back seat. Easily excitable dogs pose a huge safety risk as they can be wildly unpredictable and may interfere with a driver's ability to operate the vehicle. The major drawback with a vehicle barrier is the fact that a dog is still not secured to the vehicle, and is still a possible projectile. In the event of a collision, a dog may suffer serious injury while hitting the barrier. Vehicle barriers are only intended to keep a dog confined to the back of a vehicle, not keep them safe in the case of an accident. Because of this, most vehicle barriers may not stop a dog from becoming a projectile and entering the passenger area.
If you have a vehicle barrier for your dog, I would still advise using a restraint harness as well.
Dogs on the Driver's Lap
Did you know it is illegal to ride with a dog on your lap in Ontario?
According to the Ontario Highway Traffic Act, riding with a dog on your lap falls under the Careless Driving laws, where it is stated that "having an animal on the lap of a driver puts the operator of the vehicle, the occupants and other drivers at risk of injury."
Not only does riding with a dog on your lap create a major distraction to the operator, what happens if the airbag is deployed? For the same safety reasons small children are not permitted on front seats, an airbag can easily kill a dog. Moreover, having a dog on your lap may compromise the airbag's ability to protect you in the event of a crash.
No matter where you travel with your pet, please think safety first.
Here's to a summer filled with fun and adventure, wherever your road trips take you!