The Thundershirt Sport Platinum Anxiety Vest for Dogs
$59.89
The Thundershirt Sport Platinum Anxiety Vest for Dogs is a quick and effective way to relieve stress and calm your dog. This is a very safe method of relieving canine anxiety. The Thundershirt Vest applies gentle yet constant pressure to your dog's torso, which is similar to swaddling an infant. There is no special training required to use this product, either. Simply put it on your dog and watch as he becomes calmer.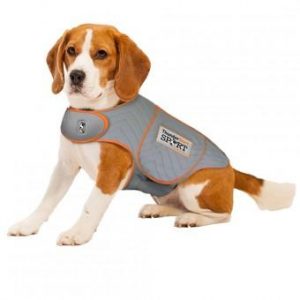 The Thundershirt Sport Platinum Anxiety Vest for Dogs has a success rate of over 80%. It is highly recommended by trainers, veterinarians, and dog owners. The effectiveness of this dog calming product has been studied by scientists such as Temple Grandin. Best of all, most dogs enjoy wearing it!
Why We Recommend The Thundershirt Sport Platinum:
Effectively calms dogs that are suffering form anxiety, over-excitement, and fear
Over 80% successful
Highly regarded as one of the most effective solutions
Safe and easy to use
Comes with reflective logos for additional nighttime safety
Dogs love it, too!
Only logged in customers who have purchased this product may leave a review.