Acana Singles Pacific Pilchard Dog Food For All Life Stages – Grain Free
$28.99 – $91.99
Acana Singles Pacific Pilchard Dog Food is a high quality dog food that uses a limited number of ingredients. It is therefore the best option for dogs with food allergies or sensitivities. This is also an excellent choice for dogs without allergies. It is a biologically appropriate and complete diet, and is designed for dogs of all breeds and life stages. The main ingredient in this formula is fresh Pacific Pilchard.  Acana uses only the freshest locally sourced ingredients in their formulas. They are a proudly Canadian company, and are also a leader in pet food innovation.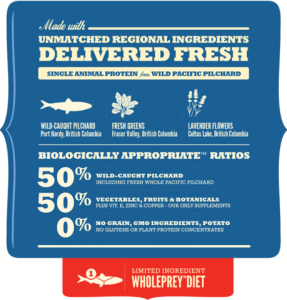 Because Acana dog foods are so nutritionally complete, they only require the use of one synthetic ingredient; zinc. Whole meats, organs, and cartilage, deliver a diet high in nutrients in a form your dog would naturally eat in the wild. Other sources of nutrition in this dog food include high fiber kale, whole red lentils, and also chicory root. Sources of Omega-3's in this formula come from plant algae. This formula also includes freeze dried pork liver, which makes it more palatable for picky eaters.
Why We Recommend Acana Singles Pacific Pilchard Dog Food:
Made with freshly caught Pacific Pilchard
Grain free
Limits carbohydrates and also does not use high glycemic grains
Extremely palatable
Limited synthetic ingredients, only one synthetic vitamin is added
Suitable for all breeds and life stages
Supports healthy digestion
An excellent choice for dogs with sensitives to animal protein, uses a single animal protein
Acana Singles Pacific Pilchard Dog Food Ingredients:
Fresh whole pacific pilchard (25%), whole pilchard meal (18%), whole green peas, whole red lentils, whole garbanzo beans, pilchard oil (7%), fresh green kale (1.5%), fresh spinach greens (1.5%), fresh turnip greens (1%), cold-pressed sunflower oil, lentil fiber, whole green lentils, whole yellow peas, fresh whole butternut squash, fresh whole pumpkin, dried brown kelp, freeze-dried pilchard (0.1%), fresh whole cranberries, fresh whole blueberries, chicory root, turmeric root, milk thistle, burdock root, lavender, marshmallow root, rosehips.*DELIVERED FRESH OR RAW
Only logged in customers who have purchased this product may leave a review.