Description
Acana Classics Prairie Poultry is an innovative dog food that focuses on creating diets similar to what your dog's ancestors ate. The result is a perfectly complete and balanced food that your dog will love. This all natural dog food is made using local, Canadian grown ingredients. This includes free-run chicken and turkey, farm fresh eggs, and also steel cut oats. This food is free from high glycemic carbohydrates too, and instead uses steel cut oats to promote healthy blood sugar. This is a biologically appropriate diet for dogs of all ages, sizes, and breeds.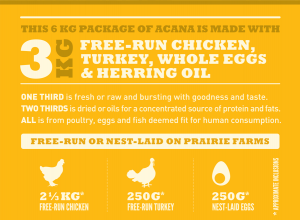 Acana Classics Prairie Poultry uses 50% fresh meat to ensure your dog is getting the protein and fats they need. The Acana brand focuses on quality of ingredients, and also works with professional pet nutrition specialists. This allows them to create industry leading pet food formulas that are made almost entirely from fresh, human grade ingredients. This formula also contains only 6 supplements. They are vitamins A, B5, D3, E, Choline, and also Zinc.
Why We Recommend Acana Classics Prairie Poultry Dry Dog Food:
An industry leader in pet health and nutrition
A complete and balanced diet for all dogs
Made with 50% fresh, human grade meat
Does not contain any high glycemic carbohydrates
Made with Canadian grown, locally sourced ingredients
Also contains only 6 vitamin supplements
Acana Classics Prairie Poultry Dry Dog Food Ingredients:
Chicken meal (25%), steel-cut oats (23%), fresh chicken meat (5%), fresh chicken giblets (liver, heart, kidney) (5%), whole red lentils, whole green peas, whole green lentils, fresh turkey meat (4%), fresh whole eggs (4%), chicken fat (4%), whole garbanzo beans, whole yellow peas, whole oats, herring oil (3%), sun-cured alfalfa, lentil fiber, dried brown kelp, fresh pumpkin, fresh butternut squash, fresh parsnips, fresh green kale, fresh spinach, fresh carrots, fresh red delicious apples, fresh bartlett pears, freeze-dried chicken liver (0.1%), salt, fresh cranberries, fresh blueberries, chicory root, turmeric root, milk thistle, burdock root, lavender, marshmallow root, rosehips.SUPPLEMENTS: VITAMIN A, VITAMIN D3, VITAMIN E, CHOLINE CHLORIDE, ZINC CHELATE, VITAMIN B5.*Contains mixed tocopherols (a tocopherol rich extract of natural origin- Vitamin E and Rosemary Oil). Also contains the probiotic Enterococcus faecium.