Acana Heritage Grain Free Adult Dog Food
$22.99 – $72.99
Acana Heritage Adult Dog Food, formerly known as Acana Heritage Cobb Chicken and Greens Dog Food is a high quality dog food designed for dogs of all ages, sizes, and breeds. This biologically appropriate dog food is made using fresh, human grade ingredients. This includes free-run chicken, farm fresh eggs, and also fresh caught fish. This dog food is grain and carbohydrate free, making it closer to your dogs natural diet. It is also very high meat proteins, which promotes lean muscle mass. Acana dog foods are formulated in an award winning kitchen. Every Acana dog food formula contains a complete and balanced nutrient profile. This means that it is biologically appropriate for your dog.
The ingredients in this food promote overall good health and longevity, including dental health, skin and coat health, and joint health, too. This dog food mimics meals your dog would eat in the wild.  This, along with its high meat content,  makes its irresistible for all dogs. Acana Heritage Adult Dog Food contains almost entirely natural ingredients, too. In fact, zinc and Vitamin E are the only synthetic ingredients. This formula is also free from pea and potato proteins.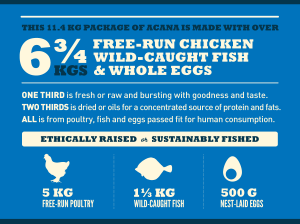 Why We Recommend Acana Heritage Grain Free Adult Dog Food:
A complete and balanced diet for all dogs
Made with 60% meat
Made using human grade ingredients
Biologically appropriate, and very close to your dogs natural diet
Free from unnecessary chemicals and preservatives
Also free from pea and potato protein
Made in an award winning kitchen
A truly super premium dog food
Acana Heritage Grain Free Adult Dog Food Ingredients:
Fresh chicken meat (11%), chicken meal (10%), turkey meal (10%), red lentils, whole green peas (9%), field beans (8%), fresh chicken giblets (liver, heart, kidney) (6%), herring meal (5%), chicken fat (5%), green lentils (5%), whole yellow peas (4%), fresh whole eggs (4%), fresh whole flounder (4%), herring oil (3%), sun-cured alfalfa (3%), pea fiber, fresh chicken cartilage (2%), dried brown kelp, fresh whole pumpkin, fresh whole butternut squash, fresh whole parsnips, fresh kale, fresh spinach, fresh mustard greens, fresh turnip greens, fresh whole carrots, fresh red delicious apples, fresh Bartlett pears, freeze-dried chicken liver, freeze-dried turkey liver, fresh whole cranberries, fresh whole blueberries, chicory root, turmeric, milk thistle, burdock root, lavender, marshmallow root, rose hips, enterococcus faecium. SUPPLEMENTS: ZINC CHELATE. VITAMIN E (PRESERVATIVE).

Acana Heritage Grain Free Adult Dog Food Guaranteed Analysis:
Crude protein (min.) 29%
Crude fat (min.) 17 %
Crude fibre (max.) 5 %
Crude moisture (max.) 7 %
Calcium / Phosphorus (min.) 1.3 % / 1 %
Omega-6 / Omega-3 (min.) 2.6 % / 1 %
DHA EPA (min.) 0.3 % / 0.3 %
Glucosamine (min.) 1200 mg/kg
Chondroitin sulfate (min.) 900 mg/kg
Only logged in customers who have purchased this product may leave a review.