Description
Brad Pattison Hemp Oil Supplement is a high quality, human grade hemp-extract oil that is ideal for most pets. Dogs and cats can especially benefit from hemp oil, as it has calming affects, and can also reduce pain and inflammation. This product is made with the highest grade hemp extract oil, and does not contain any unnecessary chemicals or fillers. Each batch of this tincture is carefully tested to ensure it is the best possible quality. It is also free from unnatural preservatives or additives. Each 30 ML bottle of Brad Pattison CBD Hemp Oil is available with 300 mg or 500 mg of CBD.
Why We Recommend Brad Pattison Hemp Oil Supplement :
A high quality hemp-based oil for pets
Made with the highest grade hemp
Does not contain additives or fillers
Also does not contain preservatives or fillers
Each batch is quality tested
Brad Pattison Hemp Oil Supplement Directions for Use:
Mix 0.1 ml of tincture for every pound of your dog or cat's weight. For example, for a 10 pound pet, give 1 ml per day. Mix into food for best results. This product can be mixed with water, however there is no way to guarantee your pet will consume it all.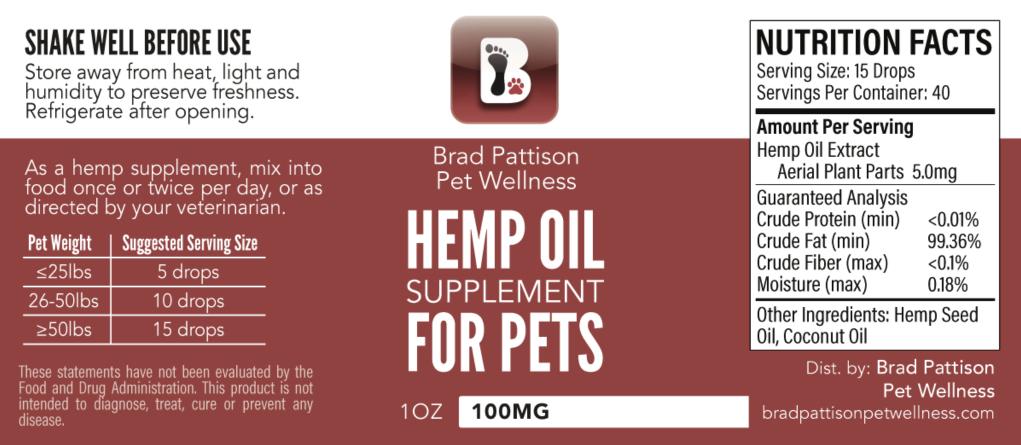 NOTE:
Any statement made on canadianpetconnection.ca regarding medical claims about hemp oil have not been evaluated by a governing agency. No claims have been confirmed through medical research. These products are not intended to diagnose, treat, cure or prevent any disease or ailment. We assume no responsibility for the improper use of these products. All information presented here is not meant as a substitute for or alternative to information from Veterinarians. Please consult your Veterinarian about potential interactions or other possible complications before using any product containing hemp oil. The information on our website is intended to provide general information about products and is not to be construed as medical advice or instruction.