Versele-Laga Complete Ferret Food
$17.49 – $116.99
Versele-Laga Complete Ferret Food is a high-meat and high quality ferret food with global popularity. This delicious formula is packed with nutrition, including natural taurine-rich meats like chicken, turkey, and duck, and also Omega-3 rich salmon for optimal skin and coat. This cereal and gluten free formula contains 90% animal protein. The bite sized pellets in this ferret food are scientifically designed with everything your fuzzy pet needs to thrive, and also includes yucca for odour prevention. This is the ideal food for any breed of ferret, too.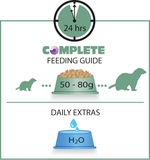 Versele-Laga Complete Ferret Food is formulated by a specialized team of Veterinarians who specialize in animal health and nutrition. It is based on the essential needs of all breeds of ferrets, as well as advanced scientific insights that can improve your pet's quality of life. This food is also an all-in-one mix, meaning your pet won't be able to selectively choose what parts they eat. Available in 750g, 2.5 KG or 10 KG bag size.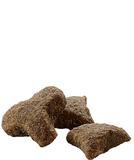 Why We Recommend Versele-Laga Complete Ferret Food:
Scientifically designed to be the perfect food for your ferret
Contains all of the essential vitamins and nutrients your ferret needs
Made with 90% animal proteins from chicken, turkey, duck, and salmon
A compressed pellet that prevents selective eating behaviours
Enriched with yucca
Gluten and cereal free
Promotes excellent dental health
Ingredients:
Poultry (chicken 42%, turkey 6%, duck 2%), potato, animal fat, peas, beet pulp, cellulose (1%), salmon (4%), salmon oil (1%), brewer's yeast, montmorillonite clay (0.5%), dried whole eggs, fructo-oligosaccharides (0.3%), calendula, yucca (125 mg/kg), rosemary, green tea
Guaranteed Analysis:
Protein of which 90% animal protein 40.0%, fat content 20.0%, crude fibre 2.0%, crude ash 6.5%, calcium 1.2%, phosphorus 1.0%, taurine 0.3%
Only logged in customers who have purchased this product may leave a review.