Our Doggy Daycare Philosophy
At Meaford Doggy Daycare, we believe in making a significant positive impact in your dog's life. While in our care, we want to stimulate and improve your dog's mental and behavioural health through fun and rewarding programming.
We go above and beyond traditional doggy daycare, offering a specialized, enrichment-based facility that works both the brain and body.

Canine enrichment is all about finding creative and effective ways to manipulate a dog's environment to satisfy their natural physical and psychological needs.
At Meaford Doggy Daycare, it all starts with a positive, canine-focused environment. This includes a variety of play structures in a bright, clean space.
Every dog in our care is assigned their own "canine condo" for when they need a break from the excitement. Our daycare staff are highly trained by certified canine behavioural experts, ensuring they have an advanced understanding on how to meet your dog's individual needs, leading to the development of stimulating, meaningful relationships.
Throughout any given day, we add a variety of safe and enriching activities. Active dogs will love our custom-made agility equipment; leaping over hurdles, jumping onto elevated surfaces, zipping through tunnels, and more.
Dogs also love nature, and we want to nurture that by offering (when appropriate) large sticks and branches for chewing and important nature-based play. We also appreciate that food is a powerful motivator for dogs, so we offer a variety of delicious stuffed & frozen toys, or a treat-filled snuffle mat.
We use a combination of sensory stimulation, including scent, taste, and texture to safely entertain your dog throughout the day. 
Dogs aren't the only ones who love to play! Our attentive and affectionate instructors love to play games and have fun with your dog in a manner that is both safe and rewarding. 

At Meaford Doggy Daycare, we believe in the significance of the human animal bond. That's why we exclusively use positive reinforcement techniques for behaviour modification. Negative reinforcement (spraying with water, yelling or hitting, reprimanding, etc.) will never be used in our facility.
We also specialize in positive reinforcement dog training!

Our qualified professionals are experienced in positive reinforcement dog training, doggy daycare management, and are dog lovers, too! Meet our staff:
Debbie – Daycare Manager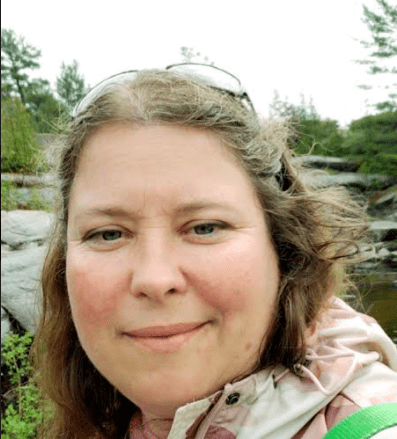 Debbie has spent her last several years working with relationship-building dog training. This includes two years working with Jodie Hawker, owner of Happy Paws Canine Solutions and head dog trainer at the Meaford Dog Training Academy.
Debbie has spent the last three years volunteering with the Georgian Triangle Humane Society, working with their dog team for fostering and fundraising efforts. Debbie is currently studying the Canine Correspondence Studies program, and is an avid animal lover.
Meaford Doggy Daycare Rules: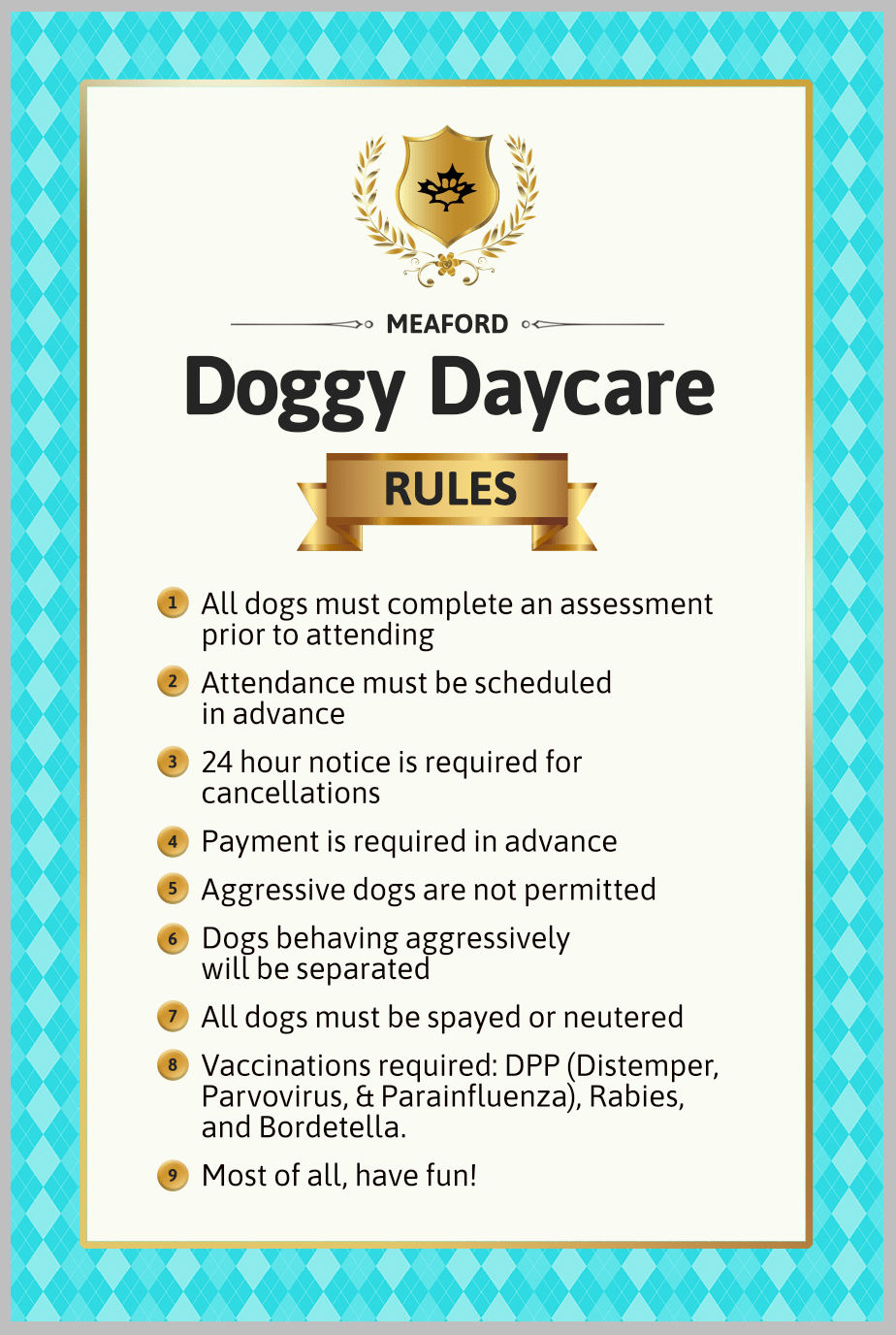 Policies:
Fleas: It is requested that all dogs in the Meaford Doggy Daycare facility are on a flea and heartworm prevention program. Dogs with fleas are not permitted in the facility. If your dog has fleas, they will be separated from the group and will need to be picked up immediately.
Clothing and Tags: Clothing such as coats, bandanas, and boots are not permitted in the doggy daycare facility. A collar without tags may be worn, however it must be cloth or nylan, and with an easy-release buckle.
Cancellations: 24 hours notice is required for cancellations. A refund will not be issued for cancellations that are less than 24 hours.
Pick ups: Only authorized pick-up persons will be allowed to pick up your dog.
Spay Neuter:
Dogs are required to be spayed/neutered as soon as is age appropriate.
Pricing Information:
***Please note: A 1 month pass is valid for 22 business days***
NEW: 1/2 Day Passes are now available for $25+ tax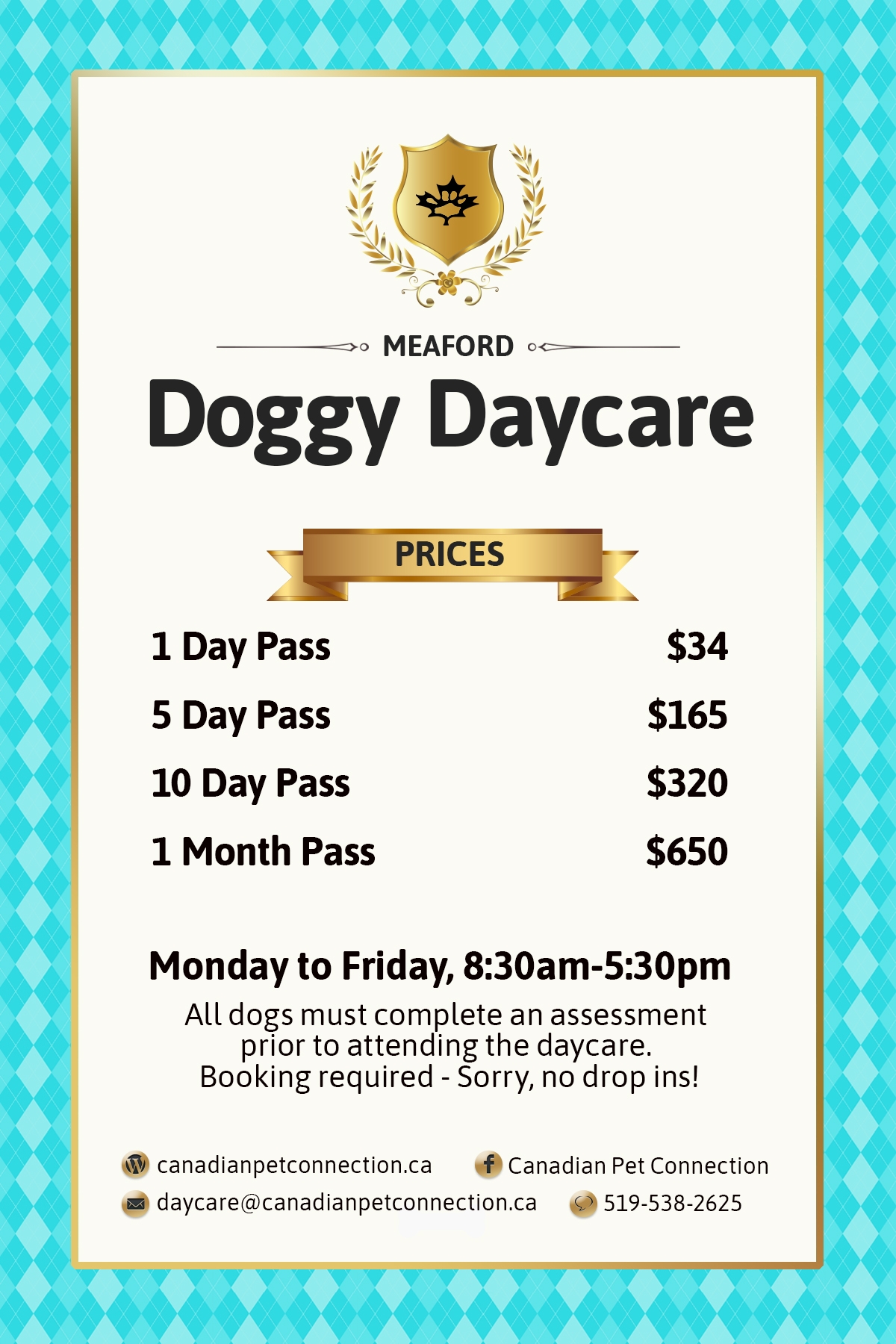 Recent Testimonials:
Our 2.5 year old Red Golden Retriever Irish has been visiting the Doggy Daycare since December 2020 and it has been great for her and for us. She has the opportunity to socialize with other dogs and humans that she has been missing with the pandemic. It is a busy active day she must look forward to, as she perks up excitedly when it's mentioned.
We are very pleased with the level of care and concern from the staff. They are engaging and affectionate with just the right amount of discipline, making sure she minds her manners.
We recommend the Doggy Daycare wholeheartedly. – Beth A.
For more information, to schedule an assessment, or to book your dog's visit: e-mail [email protected] or call 519-538-2625.
Documents:
Meaford Doggy Daycare Disruptions Policy
Doggy Daycare Facility Use Waiver 2020