Okocat Natural Wood Clumping Cat Litter
$15.48 – $34.49
Okocat Natural Wood Clumping Cat Litter is a high quality and eco-friendly cat litter option. A combination of fallen timber and reclaimed, unused lumber are what goes into this innovative cat litter. This makes it one of the most environmentally friendly cat litters on the market. This natural pine cat litter is designed to absorb up to 500% of its weight in moisture, and is completely free of harmful chemicals or additives. This litter clumps exceptionally well. It is also virtually dust free, which means it is safe for allergy sufferers.
This unique cat litter formula is specially designed to inhibit the growth of odour-causing bacteria. The result is a litter that effectively controls odours for up to 7 days. Less frequent litter changes means it is cheaper to maintain. This product is made from coniferous wood, which is naturally anti-bacterial. The natural plant fibers in this litter bind and trap odours and liquids for a superior odour control. This is also a biodegradable cat litter, therefore it won't clog up landfills. It  also has a natural, fresh scent.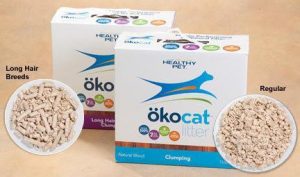 Okocat Cat Litters come in an lightweight and easy to carry box, that is also easy to pour. Choose from the Regular Clumping Formula in soft pellets, or the Long Hair Breeds Clumping Formula in dense, whole clumping pellets. The Long Hair Breeds formula is specially designed so that it won't get caught in your cat's long fur.
Why We Recommend Okocat Natural Wood Clumping Cat Litter:
An eco-friendly alternative to most litters
Made entirely from reclaimed timber and lumber
Biodegradable
Traps odours for up to 7 days
Comes in a special formula for long haired cats, and also in a regular formula
Very easy to carry and also to pour
Only logged in customers who have purchased this product may leave a review.