Since 2008, Smack Pet Foods have been proudly producing high quality pet products out of their Winnipeg, Manitoba facility. The Smack team are committed to providing pets with the healthiest, and most convenient foods in today's pet food marketplace. Their foods are backed by food engineering, biochemistry, holistic medicine, and a deep love of animals. These are the tools that allow Smack to develop an innovative, industry-leading approach to pet food manufacturing. 
But does Smack Pet Foods really live up to the hype? Let's explore this brand further.
Smack Pet Food Formulas and Ingredients
Smack is available in eight original formulas; five recipes for dog, and three for cat. All of Smack's formulas are based on fresh, organic produce, with a variety of proteins from chicken, to fish, to pork. The chicken sourced for Smack's dog and cat formulas is certified organic, Canadian-grown, free-range chicken meeting USDA specifications. All chickens are raised without the use of antibiotics, hormones, or other drugs. The entire chicken is used in Smack's formulations, including healthy bones and organs, which is conducive to raw feeding.
Smack uses a delectable assortment of fish in their fish-based recipes; salmon, wild-caught rockfish, and wild caught herring. Wild-caught fish are a popular choice because, like organically farmed meats, they are typically free from growth hormones, antibiotics, and other drugs that often make their way into mainstream farms. Fish is a rich source of Omega 3 & 6 fatty acids, promoting optimal heart health, skin and coat health, and brain function and development. Fish is also a highly palatable protein, for both dogs and cats, and is easier to digest than red meats.
Every recipe in the Smack lineup uses an impressive assortment of certified organic produce, something that is widely unheard of in the pet food industry. These nutrient-dense, plant-based ingredients include pumpkin, spinach, apples, kale, parsley, turmeric, blueberries, cranberries, and more. 
Smack Pet Foods are naturally preserved, using only mixed tocopherols; compounds found in the vitamin E family. Tocopherols are mighty antioxidants, effective at naturally slowing the spoilage of food. This is a popular and healthy substitute to undesirable chemical preservatives. Because Smack formulas are dehydrated, they have extremely low moisture (maximum 4%), and therefore do not require additional preservatives. 
And that's it. Smack Pet Foods contain no grains (like wheat, corn, and soy), potato, fillers, or other objectionable ingredients commonly found in today's pet foods. Additionally, Smack formulations contain no synthetic ingredients whatsoever. In today's pet food marketplace, the vast majority of commercial pet foods are highly processed, thus requiring synthetic vitamin premixes to be added. Very few commercial pet foods are synthetic free.
During production of the most common pet food brands, much of the nutrient and vitamin density is lost due to high processing. As a result, pet foods are required to fortify their products with synthetic vitamins and minerals to ensure nutritional completeness. In fact, there are only a small handful of pet foods available in Canada that are healthy enough to not require this manufactured supplementation. Because of their gentle air drying process, Smack Pet Foods are among the very few synthetic free brands.
How Is Pet Food Dehydrated?
The manufacturing process for dehydrated raw dog food and cat food is very different than that of kibbles. To create kibble, all of the ingredients are mixed together into a paste, which is then extruded to create the classic kibble shape. Next, the kibbles are cooked at high temperatures to remove moisture, which compromises the integrity of naturally occurring nutrients. With that said, manufacturing processes vary widely by brand, with today's leading pet food manufacturers now using gentler cooking processes for their foods.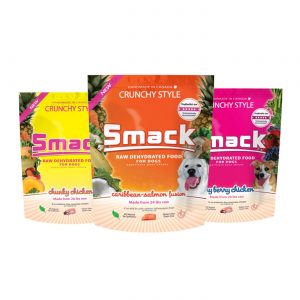 With dehydrated raw foods, the ingredients are only minimally processed, and then gently air dried to create pieces that resemble a jerky-like texture. Because of this, dehydrated raw food can best be described as wholefoods in their natural form, without their original moisture. 
The air drying process used to produce Smack Pet Foods is slow, and exceptionally gentle. This allows Smack's formulas to retain the original vitamins and nutrients present in their raw, unaltered form. This is why Smack Pet Foods do not require synthetics of any kind. 
Simplicity, Availability and Pricing
The only con to this food may be the price. Dehydrated raw cat food and dog foods are not the most budget friendly, and typically cost more per meal compared to traditional extruded kibble. For certain pet owners, especially those with large or multiple pets, Smack may be somewhat cost prohibitive. This doesn't necessarily come as a surprise, as feeding one of the best quality pet foods in the world naturally comes with a higher price tag. With that being said, Smack Pet Foods are still more affordable than many popular, less nutritious brands.
If the cost of Smack is prohibitive, that's alright. This is an exceptionally high quality food that can be fed as a supplemental meal booster; simply mix it with your pet's regular food. Or, use it as a delicious reward, snack, or training treat. Any time your pet eats Smack, they're benefiting from the world's best super foods, and the nutritional benefits that come with them.
Smack Pet Foods do not have a history of recalls or shortages, and are now largely available to purchase both online, and in pet specialty retail stores. Smack's dehydrated raw foods are very simple to feed compared to frozen raw diets. With frozen raw pet foods, you must thaw it in advance, with a strict emphasis on using safe handling and cleanup practices. Frozen raw pet foods are inconvenient to travel with, too. However, with dehydrated raw, your pet's food is stable at room temperature, and you simply feed it in just the same way you would kibble. It can also be re-hydrated with warm water, if you wish, however this isn't necessary. Essentially, dehydrated raw foods offer all the nutritional benefits of frozen raw, without the hassle and bacteria concerns.
Overall Opinion of Smack Pet Foods
As pet experts with thirty years experience in holistic pet health and nutrition, we are very excited about the Smack Pet Food lineup. Smack joins a select category of synthetic-free pet foods, using nothing but wholesome super food ingredients. Very few products in today's pet food marketplace come close to the quality of Smack.