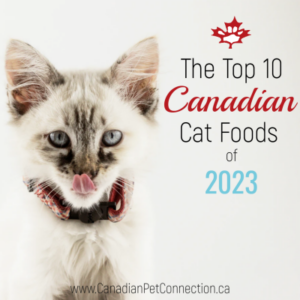 What are the best quality cat foods you can buy in Canada? Canada is home to some of the best quality cat food brands in the world! In fact, Canadian brands lead the way in innovation and sustainability. We have carefully evaluated dozens of Canadian pet food brands, closely scrutinizing every aspect of the manufacturer and their recipe. Here are just a few of the things we consider:
Quality and source of ingredients, including how fresh the ingredients are, where they're sourced from, whether they include antibiotics or hormones, if they're GMO free, organic, and more.
Manufacturing practices and transparency. We believe the manufacturers of the foods we feed our beloved pets should be accountable for every step of the manufacturing process.
Innovation and sustainability. As we move towards a more eco-friendly world, pet food manufacturers should be focused on developing earth-friendly standards and practices as well.
Here are the top 10 best Canadian made cat foods for 2023:
#1: Smack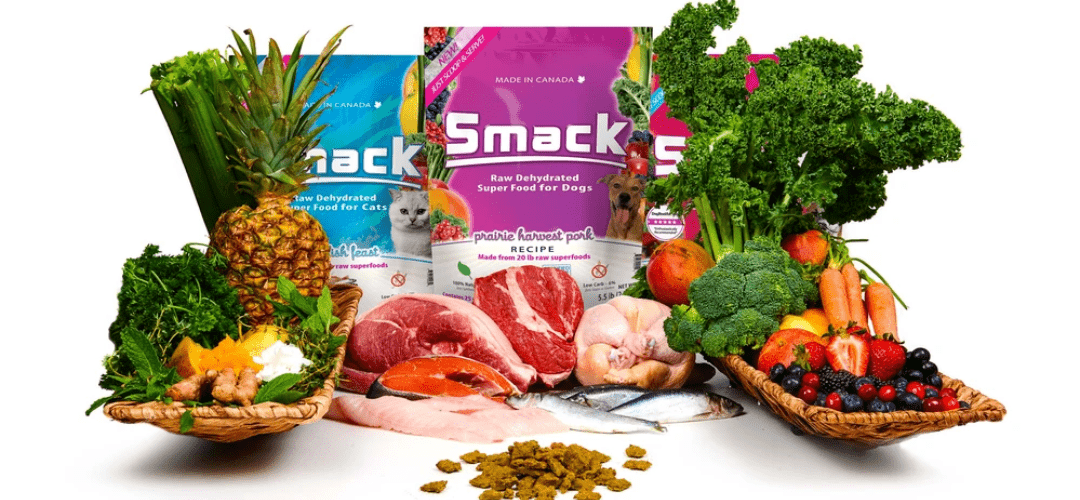 Smack has won the #1 spot in our top dog foods list for the last three years, and their cat foods are no exception. 
Since 2008, Smack has made exceptionally high quality pet foods in their Winnipeg, Manitoba facility. Not only are their foods some of the healthiest we've ever seen, they're also extremely convenient to feed.
All Smack products are backed by food engineering, biochemistry, holistic medicine, and a deep love of animals. These are the tools that allow Smack to develop an innovative, industry-leading approach to pet food manufacturing. Smack's recipes are made mostly from certified organic ingredients, including the best quality cuts of human-grade meat (like whole, bone-in chicken), and a carefully chosen range of organic produce. 
Best of all, Smack's foods are dehydrated in their raw form, ensuring maximum nutrient retention. Because of their high meat content, Smack is highly palatable; perfect for fussy felines. 
There are three unique Smack cat formulas to choose from: Pacific Fish Feast, Purrfect Pork, and Very Berry Chicken, and Salmon. Smack's recipes are loaded with wholesome, nutritiously-dense superfoods, and don't require any synthetic supplementation. Read our full review of Smack Pet Foods here.
Highlights of Smack Pet Foods:
Synthetic-free

5 formulas: Pacific Fish Feast, Purrfect Pork, and Very Berry Chicken, and Salmon

Made mostly with certified-organic, human-grade ingredients

Loaded with nutrient-dense superfoods

Highly palatable; perfect for finicky cats

Manufactured in Winnipeg, Manitoba

Self-manufactured

Food type: dehydrated raw

Size options: 250g, 1.5kg bags

Price: $$$
#2: Carna4
Carna4 is consistently one of our best selling brands year over year, and for good reason; they're one of the few foods on this list containing absolutely no synthetics of any kind. Unlike most commercial cat foods, Carna4 foods are so nutrient dense, synthetic vitamins premixes are not needed during the manufacturing process.
Since 2010 Carna4's team of nutritionists, food scientists and engineers have been harnessing the nutritional power of superfoods to make exceptional quality pet foods. Using organic sprouted seeds – one of the most nutrient-dense foods on Earth – combined with 100% fresh, table-grade meats, and whole produce, Carna4 is loaded with nutrition and flavour. 
Organic sprouted seeds in Carna4 are an outstanding source of antioxidants, enzymes, and probiotics. All Carna4 formulas are free from hormones, antibiotics and GMO's. Carna4 offers two cat food recipes: chicken and fish. These formulas are perfectly suitable for cats of all sizes, shapes, and life stages. 
Carna4 sets rigorous testing standards for their products, and every batch is tested for safety by a third-party research and laboratory testing firm. This firm specializes in testing foods and health products for major consumer goods companies in Canada. Carna4 is also a big supporter of sustainable ingredient sourcing and humane farming practices. 
Highlights of Carna4 Cat Food:
Synthetic-free

2 formulas: chicken and fish 

Made with superfood organic sprouted seeds

Made in: Quebec, Canada

Food type: gently-baked kibble

Size options: 2 LB or 4 LB

Price: $$$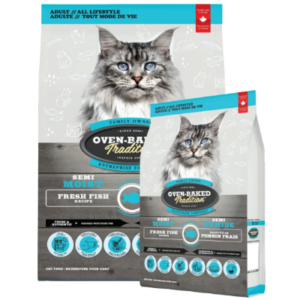 Oven Baked Tradition is rapidly gaining popularity as a slow-baked, nutrient dense line of kibble, canned foods, and treats. Their natural ingredients come from carefully selected, trusted farms that are primarily found locally. Every recipe is made using a slow baking process that is more similar to air drying than to cooking. This results in a nutrient dense food that is also loaded with flavour. Their recipes are completely free from artificial  flavourings, antibiotics, or preservatives. Instead of filler grains, such as wheat, corn, or soy, they use home-milled grains like rye, barley, and oats.
Grain-free, low glycemic foods made with exceptional ingredients are at the core of Oven Baked Tradition's formulas. They have the perfect food for your cat. Check out unique flavours like quail and boar!
Highlights of Oven Baked Tradition cat food:
Made in Quebec
Meat-rich and high in protein
Food type: dry kibble, cans
Size options: 2.5 LB, 5 LB, 10 LB
Price $$-$$$
#4: Zeal
Zeal entered the Canadian pet food industry two years ago. This interesting brand of gently air-dried pet food focuses on simple recipes that incorporate human-grade whole organs; nutrient powerhouses that provide your cat with a boost of protein, iron, zinc, and more. 
Every batch of Zeal is carefully air-dried at 80°C, resulting in a consistency similar to beef jerky or artisanal meats. Zeal uses only locally sourced, human-grade ingredients, without the use of any artificial binders, fillers, preservatives, or dyes. Best of all, Zeal is a more affordable option than most dehydrated raw brands.
Zeal comes with a high meat inclusion, making it another excellent option for picky cats. Currently, Zeal only offers one recipe for cats, a delicious salmon and turkey blend.
Highlights of Zeal Cat Food:
Made in: British Columbia

High-quality dehydrated raw

More affordable than other dehydrated raw cat foods

Food type: gently air-dried

Size options: 14 oz

Price: $$-$$$ 
#5: Orijen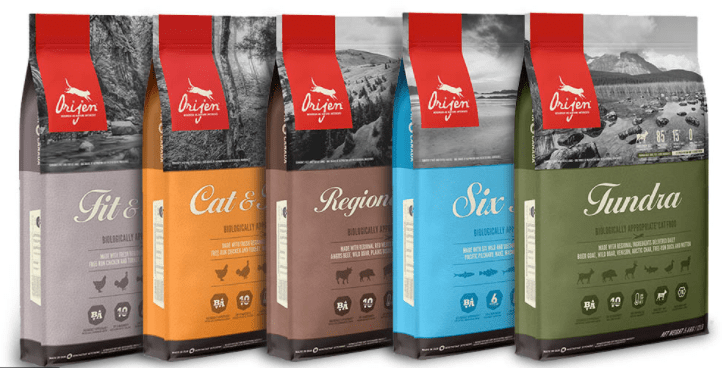 Orijen is consistently one of the best Canadian-made brands on the market. In fact, the manufacturer of Orijen (Champion Pet Foods) has earned an international reputation for their food manufacturing and sourcing practices. Orijen believes firmly in sourcing from fresh, local farms, and virtually all ingredients found in Orijen cat foods are sourced within one-hundred kilometres from their manufacturing facility. As a result, Champion Pet Foods have won more awards than any other pet food maker in the world.
Orijen's high meat inclusion and subsequent high protein content not only results in an irresistible food choice for fussy cats, it also packs plenty of nutrient-dense ingredients to keep your cat healthy and thriving. There are several unique formulations to choose from. Thinking of trying a unique flavour combination for your kitty? Consider Orijen Tundra, with fresh goat, wild boar, venison, arctic char, free-run duck, and more – all in one kibble! 
Highlights of Orijen Cat Food:
Made in Alberta

Self-manufactured

Whole-prey, high meat inclusion

Grain-free, all-life stage formulas

Fresh ingredients sourced from local farms

Food type: dry kibble

Size options:

 1.8kg & 5.4kg

Price: $$$  
#6: CaniSource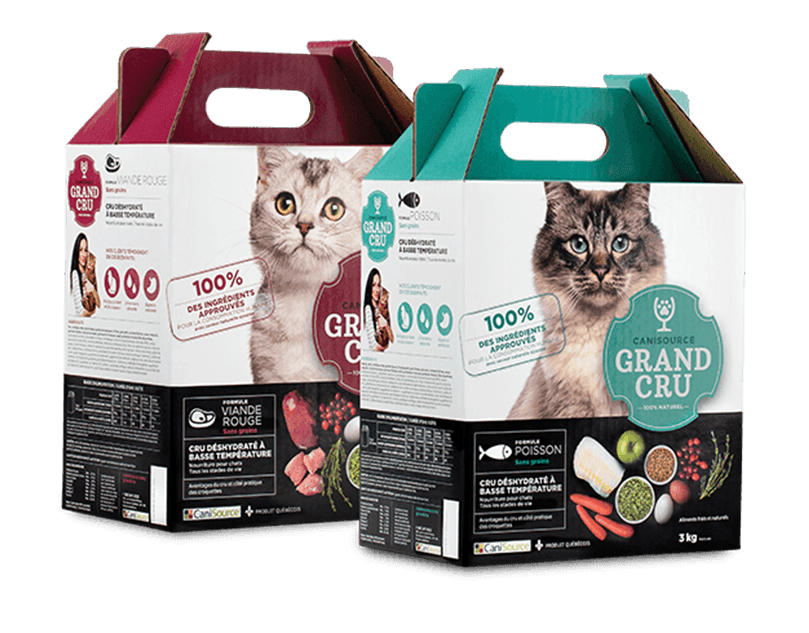 CaniSource cat food was founded in 2005 in Quebec, where they still operate. Their foods are made in the CaniSource kitchen, where they aim to replicate the requirements and processes for creating human grade foods in a premium quality cat food. In fact, all of the ingredients that come into the CaniSource kitchen are certified for human consumption, ensuring your cat is eating the best quality ingredients.
Currently, CaniSource offers two formulas for cats; grain free fish, and red meat. CaniSource cat foods are lightly dehydrated to lock-in the original nutrients and vitamins. Best of all, these formulas are Clean Label Project certified.
Highlights of CaniSource Cat Food:
Made in Quebec

Self-manufactured, handmade

Certified human grade ingredients

Fresh ingredients sourced from local farms

Food type: dehydrated raw

Size options: 1 kg, 3 kg

Price: $$$  
#7: Acana
Acana, the sister brand to Orijen, is also made in Alberta by Champion Pet Foods. Using the same quality ingredients, and the same award-winning manufacturing practices, Acana is among the most popular health-food brands for cats today. 

So what is the difference between Acana and Orijen? Simply put, the difference is meat inclusion. Acana's cat formulas are made with up to 75% meat, whereas Orijen's meat content can tip the scales at around 90%. Acana has 8 recipes available for cats: Wild Prairie, Grasslands, Pacifica, and Ranchlands are their classic flavours. Acana's four newest formulas include First Feast (kitten), Indoor Entree, Bountiful Catch, and Homestead harvest.
Highlights of Acana Cat Food:
Made in Alberta

Self-manufactured

Numerous formulas to choose from

Fresh, whole ingredients sourced from local farms

Food type: dry kibble

Size options: 1.8 kg, 4.5 kg

Price: $$
 #8: FirstMate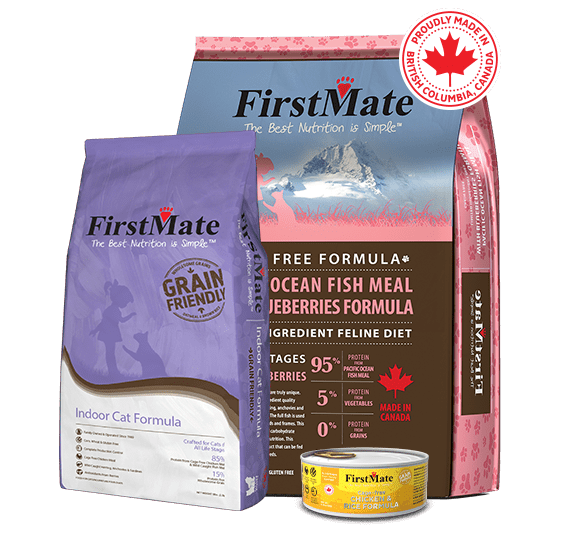 The history of British Columbia-based FirstMate is a rich and interesting one with its beginnings in commercial fishing. This family owned and operated company takes great pride in the quality, safety and performance of their products. FirstMate's Executive Vice President is a Veterinarian and Pet Nutritionist, reinforcing their commitment to quality and nutritional excellence.  
FirstMate specializes in both grain-free and also grain-friendly dry kibble formulas. In their grain friendly line, FirstMate offers a chicken-based cat & kitten formula, as well as a lower calorie chicken and fish indoor cat formula. FirstMate's grain-free kibble options include chicken with blueberries, and pacific fish with blueberries.
Owning their own cannery has it's advantages, too. FirstMate offers a variety of high quality canned cat foods at an affordable price. Some of FirstMate's most popular canned formulas include chicken, turkey, tuna, and salmon.
Read our complete review of the FirstMate brand here.
Highlights of FirstMate Cat Foods:
Made in British Columbia

Family owned

Self-manufactured

Grain-free and three grain-friendly options

Value-priced, grain-inclusive options

Food type: dry kibble, cans

Size options: 5 lb, 13.2 lb

Price $-$$
#9: GO! Solutions
GO! Solutions is one of three brands made by British Columbia-based Petcurean. 
With higher than average meat inclusion, Go! Solutions is a super-palatable option for even the fussiest cat. A higher meat content comes with a slightly higher price tag, but it is well worth it for the quality of this product. Go! Solutions offers a full line of grain free, grain friendly, and limited ingredient options.
All Go! Solutions formulas are uniquely designed to help cat owners manage their cat's protein, fat, and carbohydrate intake. Plus, their recipes are ideal for solving problems, such as food allergies, skin and coat care, and sensitive tummies. Go! Solution's unique formulas include lamb & wild boar, and pollock.
Go! Solutions offers complimenting dry kibble recipes as well as canned/ tetra pack recipes.
Petcurean is also an environmentally-progressive company; currently in the process of developing 100% recyclable bags. This can be a complicated process, as the plastic interior lining is essential to keeping their products fresh and safe. Many of the other products that Petcurean makes are completely recyclable, too. 
On staff, Petcurean has the backing of their Senior Nutritionist; a Ph.D. in companion animal nutrition, with a master's degree in human nutrition. 
Highlights of GO! Cat Foods:
Made in Fraser Valley, British Columbia

Self-manufactured

Limited-ingredients

High meat content

Great choice for fussy cats

Environmentally-conscious ethics

Size options: 3 lb, 8 lb, 16 lb

Price $$-$$$
#10: Boréal
After more than twenty years of manufacturing high-quality pet foods, Boréal has consistently been among the top cat food brands in Canada. 
Boréal's approach to feline health focuses on grain-free and grain-friendly formulas with high-quality meats, using nutritious low-glycemic carbohydrates like peas and beans.
Boreal offers 3 original formulas; chicken with turkey and trout, and fish trio. Additionally, Boreal offers a functional indoor cat and a senior cat recipe. 
Highlights of Boreal Cat Foods:
Made in Ontario

Most ingredients sourced from Canada

Affordable, healthy options for the price-conscious consumer

Food type: dry kibble, cans

Dry Size options: 5 lb, 12 lb

Can Size options: 156 gram, 369 gram

Price $-$$
BONUS: Harlow Blend
Based out of Mississauga, Ontario, Harlow Blend is created by an animal lover, for animal lovers, and has ties in the Canadian pet food industry dating back to 1993.
All ingredients used in Harlow Blend exceed FDA guidelines for human consumption, meaning they are of the highest quality available. Their ingredients are sourced from Canada, USA, and New Zealand. 
Harlow Blend cat recipes consist of three tasty formulas: turkey fusion, fish fusion, and chicken and salmon blend. Their formulas are slow cooked at low temperatures, are low in magnesium, and help promote balanced urinary ph. Plus, their recipes are ideal for cats of all ages.
Highlights of Harlow Blend Cat Foods:
Family-owned

Ingredients sourced from Canada, USA, and New Zealand 

Three recipes to choose from

Low magnesium

Slow cooked at low temperature
PH balanced for optimal urinary tract health

Food type: dry kibble

Size options: 3 lbs, 7.5 lbs, 10 lbs, & 15 lbs

Price: $$
Also read: The Top 23 Canadian Made Dog Foods for 2023