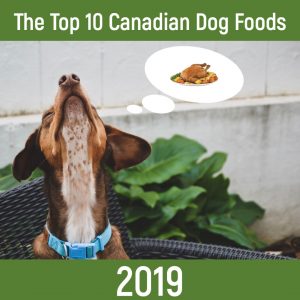 Over the last two decades, Canadian pet food manufacturers have been developing high quality, human grade, and innovative pet foods to supply both Canada and the world. We have carefully considered them all, looking at every aspect of the manufacturer and their recipe. Here are just a few of the things we consider: Quality and source of ingredients, including how fresh the ingredients are, where they're sourced from, whether they include antibiotics or hormones, if they're GMO free and organic, and more. Manufacturing practices and transparency. We believe that manufacturers of the foods we feed our beloved pets should be accountable for every step of the manufacturing process. Innovation and sustainability. As we move towards a more eco-friendly world, the foods our pets eat should come from earth-friendly, sustainable sources, too.
Here are the top 10 best Canadian made dog foods for 2019:
#1: Carna4
As the only food on this list containing absolutely no synthetics of any kind, Carna4 is a unique brand, and ranks #1 in our Top 10 Canadian Dog Food Rankings.
Carna4 began in 2010 when a team of nutritionists, food scientists and engineers set out to create a completely synthetic-free dog food by harnessing the nutritional power of superfoods. While virtually every dog food kibble on the market requires manufactured vitamin pre-mixes, Carna4 does not. Using organic sprouted seeds – one of the most nutrient-dense foods on Earth – combined with 100% fresh, table-grade meats, and whole produce, Carna4 is loaded with nutrition and flavour. Organic sprouted seeds are an outstanding source of antioxidants, enzymes, and probiotics.
There are three formulas to choose from; chicken, duck, and fish. These formulas are perfectly suitable for dogs of all sizes, shapes, and life stages. Carna4 sets rigorous testing standards for their products. Every batch is tested for safety by a third-party research and laboratory testing firm specializing in foods and health products for major consumer goods companies in Canada. Carna4 also supports sustainable ingredient sourcing, humane farming practices, and using ingredients free from hormones, antibiotics and GMO's.
#2: Orijen
In an industry with so many high-quality dog food options, Orijen lands the runner-up spot in our Top 10 Canadian Dog Food Rankings.
Made with some of the highest meat inclusion among all commercial pet foods, Orijen is modeled off of the natural diet of whole prey animals, like wolves. Orijen's high protein content not only results in an irresistible option for fussy dogs, it also packs plenty of nutrient-dense foods to give high-energy canines the fuel they need to perform.
There are several unique formulations to choose from; from the more traditional poultry and fish blends, to red meat, and novel-protein options. Thinking of trying a unique flavour combination for your pooch? Consider Orijen Tundra, with fresh goat, wild boar, venison, arctic char, free-run duck, and more – all in one kibble! Orijen formulas are available in dehydrated raw, too. 
The manufacturer of Orijen, Champion Pet Foods, has earned an international reputation for their foods, manufacturing, and sources practices. Champion Pet Foods beliefs firmly in sourcing from fresh, local farms. In fact, virtually all the ingredients that go into Orijen are sourced within one-hundred kilometres from their manufacturing facility. As a result, Champion Pet Foods have won more awards than any other pet food maker in the world.
#3: Acana
Acana is the sister brand to Orijen, and is also made by Champion Pet Foods. Using the same ingredients, and the same award-winning manufacturing practices, Acana is among the most popular health-food brands for dogs today. So what is the difference between Acana and Orijen? Simply put, the difference is meat inclusion. Acana's formulas are made with up to 70% meat, where Orijen's meat content can tip the scales at around 85%.
What really makes Acana stand out is their unmatched selection of formulas. For dogs needing limited-protein options, the Acana Singles line offers single-protein options in lamb, duck, pork, and pilchard. There are also multiple-protein formulas in the Acana Regionals line; poultry, fish, and red meat blends.  Considering the multitude of formulas available, it's no wonder Acana is a popular option for rotation-based diets. There are so many unique flavours to switch between!
#4: Gutsy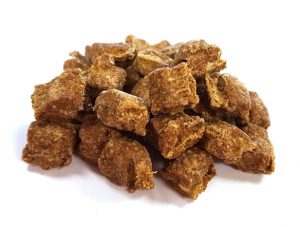 Gutsy is a relatively new line of hand-crafted dog food, made by Crump's Naturals in Ontario. Available in two formulas – chicken, and salmon and trout, these gently dehydrated, grain-free dog foods are packed with high-quality ingredients, free of hormones, antibiotics and GMO's. This dehydrated raw dog food is more akin to a beef-jerky than to a kibble, making it particularly palatable. It is also highly focused on using prebiotics, probiotics, low-glycemic carbohydrates, and easily digestible ingredients, to promote and improve gut health. 
Since 2014, Crumps' Naturals has been granted certification by the Global Food Safety Initiative (GFSI), which promotes the continuous improvement of food safety to consumers. All ingredients, packaging and finished products are fully traceable, among other quality-control standards.
#5: v-planet
V-planet dog food is brand new to the Canadian marketplace, making their grand entrance in November of 2018. Their sister company, v-dog, has been producing high quality, human grade dog foods in California since 2005. So what makes the v-planet brand unique? Their foods are entirely plant based. This means that there are no meat, eggs, dairy, or animal by-products in any of their recipes.
Plant-based and vegan dog foods have been popular for over a decade for pups who suffer from protein allergies, and are often recommended by veterinarians. However, a recent trend towards cruelty-free, eco-friendly pet ownership has caused the plant-based dog food market to skyrocket. V-planet is meeting that market demand with their innovative formula, available in regular sized kibbles or in mini bites, that is complete and balanced to meet the nutritional needs of all adult dogs.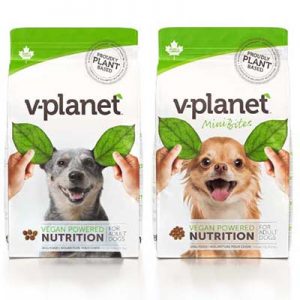 #6: PetKind
The Canadian kings of tripe for dogs. PetKind has built their brand on the backbone of tripe, and it's numerous nutritional benefits for our canine friends. Whether it's their foods or treats, rest assured, tripe stays a focal point of virtually all PetKind products. The result is an excellent line of dogs foods made with the highest-quality ingredients for top nutrition – and from sourcing to production, PetKind is 100% Canadian.

PetKind's dog food line consists of seven formulas – all with various forms of tripe. PetKind offers three poultry-free formulas to suit the hypoallergenic needs of dogs with allergies, as well.
#7: Boréal
After more than twenty years in pet food manufacturing in Canada, Boréal have solidified themselves as one of the top dog food brands in Canada. Boréal's approach to canine health focuses on grain-free formulas with high-quality meats, and using low-glycemic carbohydrates like peas and beans.
Boréal offers three lines of dog foods: Boréal Original, Boréal Vital, and Boréal Proper. All formulas are potato free, and limited ingredient. This is great for dogs with food allergies and sensitivities. Their formulas are modeled after the diets of ancient canines that lived in the wilds of the Boreal forests in North America.
#8: FirstMate
The history of British-Columbia based FirstMate is a rich and interesting one with its beginnings in commercial fishing. Still family owned, decades later, FirstMate takes great pride in the quality, safety and performance of their products. Not only does FirstMate have complete control of their production, their Executive Vice-President is a Veterinarian and Pet Nutritionist.
With eight grain-free formulas to choose from, FirstMate has a suitable food for any dog. In addition to using only wild-caught fish, FirstMate never uses ingredients with hormones, antibiotics, or GMO's.
#9: Horizon
Authentic. Regional. Affordable. That's Horizon's mantra.
Independently owned by two Saskatchewan-based families, Horizon have been producing top-quality pet foods for over a decade. These experts in agriculture believe greatly in being a transparent company. From everything from ingredient sourcing, to manufacturing, to food in your pet's bowl, Horizon wants you to know they have nothing to hide.
Horizon offers five formulas made with human-grade meats, with no GMO's, hormones, steroids, by-products or chemical preservatives.
#10: GO!
GO! is one of the three main brands made by Petcurean. With higher than average meat inclusion, Go! Is a super-palatable option for even the fussiest canines. These nutrient-dense, grain-free and potato-free diets are made without hormones, antibiotics, or artificial preservatives. The limited-ingredient nature of Go!'s formulas make them a wonderful choice for dogs with food allergies and sensitivities.
The GO! formulas are uniquely designed to help pet owners manage their pet's protein, fat, and carbohydrate intake. With three mouth-watering formulas to choose from, GO! dog foods with satisfy your dog's inner carnivore.
Bonus: Now!
With thirteen dog food formulas, Now! has one of the largest selections of any super-premium Canadian brand. All formulas are free from grain, gluten, and chicken, and use the highest quality market-fresh ingredients available. Because of the multitude of formulas available, many consumers rotate among them to get the best of what each product offers.
Now! Is made by Petcurean, the same manufacturer as Summit, and Go!. All three brands use the same ingredient sourcing and manufacturing practices.