Shades of Gray Rabbit Feet Pet Treats
$11.99 – $14.99
Shades of Gray Rabbit Feet Pet Treats are a unique treat that your dog will love. These treats are made with the finest quality rabbit, humanely and sustainably grown in Guelph, Ontario. These rabbits are free from antibiotics and added growth hormones, too. This grain free treat is naturally free from by-products, artificial flavours, dyes, and preservatives.
Shades of Gray Rabbit Feet Pet Treats are 100% natural. They're slow dried, to retain their original nutrition. This is an extremely lean treat, and is very easy for dogs to digest. Because they contain naturally formed cartilage, these treats are high in glucosamine and chondroitin, and are also a great source of calcium. Proudly made in Canada by an Indigenous certified small business. Available in a 70 g or 100 g package
Why We Recommend Shades of Gray Rabbit Feet Pet Treats:
Made in Ontario with humanely and sustainably raised rabbit
An all natural treat
Slow dried for optimal nutrient density
An easily digestible treat
Rich in glucosamine, chondroitin, and calcium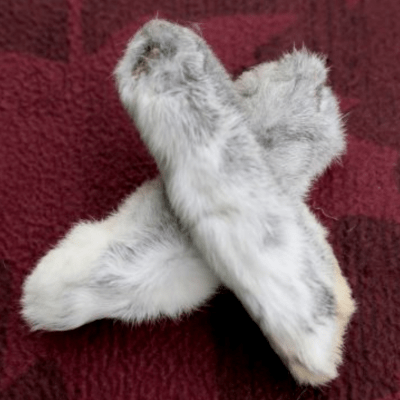 Ingredients:
slow dried Rabbit feet
Guaranteed Analysis:
Moisture 8%
Fibre 3%
Fat 9%
Protein 50%
Feeding Guide:
Feed to your pet several times a day for a healthy treat or meal substitute.
Only logged in customers who have purchased this product may leave a review.