How Our Flat Rate Shipping Works
| | | |
| --- | --- | --- |
| Weight | Shipping Cost | Shipping Method |
| 10 lbs or less | $7.99 | Canada Post Expedited |
| 10.1 lbs – 20 lbs | $12.99 | Canada Post Expedited |
| 20.1 lbs – 30 lbs | $15.99 | Canada Post Expedited |
| 30.1 lbs – 49.9 lbs | $19.99 | Canada Post Expedited |
| 50 lbs – 60 lbs | $29.99 | Canada Post Expedited |
| 60.1 lbs – 99 lbs | $65.99 | Canada Post Expedited |
| 99.1 lbs – 149 lbs | $89.99 | Canada Post Expedited |
| 149.1 lbs – 300 lbs | $155.00 | Canada Post Expedited |
Note: Any orders over 300lbs will require a shipping quote. Please contact Northern Pet Shop Customer Service at (844) 799-(PETS) 7387 for a quote.
Remote Area Shipping
Certain remote areas within Canada have limited delivery service and this results in a high shipping cost. We are unable to offer our  flat rate shipping to these areas but do have competitive rates with Canada Post that you can take advantage of. These areas include: Yukon, Northwest Territories, Nunvaut & the following postal codes:
Newfoundland & Labrador
A0A, A0B, A0C, A0E, A0G, A0H, A0J, A0K, A0L, A0M, A0N, A0P, A0R, A8A
Nova Scotia
B0C, B0E, B0H, B0J, B0K, B0M, B0N, B0R 1A0, B0R 1E0, B0R 1H0, B0T 1B0, B0T 1E0, B0T 1N0, B0T 1X0, B0V B1C, B1K 2S5, B1X 2A4, B1Y 3B1, B2C, B9A 1H7
PEI
C0A, C0B 1P0
New Brunswick
E2A, E3A, E3C, E3E, E3G, E3L, E3N, E3V E4A, E4B, E4C, E4E, E4H, E4M, E4S, E4T, E4V 0A9, E4W, E4X, E4Y, E4Z E5A, E5B, E5C, E5E, E5G, E5J, E5K, E5L, E5M, E5N, E5P, E5R, E5S, E5T, E5V E6A, E6B, E6C, E6E, E6G, E6H, E6J, E6K, E6L E7A, E7B, E7E, E7G, E7H, E7J, E7K, E7L, E7M, E7N, E7P E8A,E8B, E8E, E8G, E8T E9A, E9B, E9C, E9E, E9H 0A1
Quebec
G0C 1X0, G0C 3G0, G0G, G0H, G0J, G0K 1K0, G0K 1R0, G0L, G0R, G0V, G0W, G0X 1S0, G0X 1V0, G0X 1W0 G4T, G8L, G8M J0K, J0M, J0R 1A0, J0T, J0V 1G0, J0V 1K0, J0W, J0Y, J0Z, J8G, J8H
Ontario
K0H, P0B, P0J, P0K, P0L, P0M, P0P, P0S, P0T, P0V, P0W, P0X
Manitoba
R0A, R0B, R0C, R0E, R0G, R0H, R0J, R0K, R0L, R0M
Saskatchewan
S0A, S0C, S0E, S0G, S0H, S0J, S0K, S0L, S0M, S0N, S0P
Alberta
T0A, T0B, T0E, T0G, T0H, T0J, T0K, T0L, T0P, T9H, T9J, T9K
British Columbia
V0A, V0B, V0C, V0E, V0G, V0H 1A0, V0H 1J0, V0H 1M0, V0J, V0K, V0L, V0N, V0P, V0R, V0S 1K0, V0S 1L0, V0T, V0V, V0W 1A0, V0X, V8A 0A7, V9Z 1K2, V9Z 1L1, V9Z 1L9
Nunavut, Yukon, Northwest Territories
X0A, X0B, X0C, X0E, X0G 0A0, X1A Y0A 1B0, Y0A 1C0, Y0B, Y1A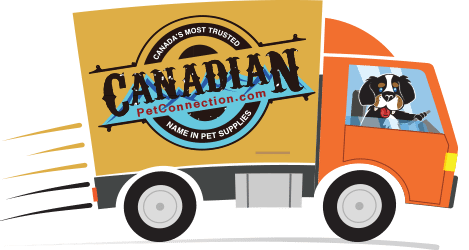 Shipping Insurance
Shipping insurance is automatically included for all orders up to a maximum of $100. Optional shipping insurance is available at checkout and will be calculated for you based on your order value. You may decline this coverage, however, Canadian Pet Connection cannot assume liability for any lost or damaged shipments exceeding $100 in value unless this optional insurance has been purchased.  
Frequently Asked Questions (FAQ) – Shipping
What should I do if an item is missing from my order?
First, verify that you've received a box for each tracking number associated with your order. If all boxes have been delivered but you're still missing an item, check the packing material for small items. Please call Canadian Pet Connection Customer Service at 1-844-799-PETS (7387) or email us at [email protected] if you're unable to locate an item.
Does Canadian Pet Connection deliver to P.O. Boxes?
Yes, Canadian Pet Connection will ship via Canada Post to PO Boxes and rural route addresses.
Does Canadian Pet Connection ship internationally?
Canadian Pet Connection does ship to international addresses if appropriate arrangements can be made. Flat rate shipping does not apply to international shipments.
Call Customer Service for more information 1-844-799-PETS (7387)
Returns
All original packaging must be intact and returned with the items. Items without the original packaging or no longer in original condition will be subject to a 20% restocking charge. Customers may return items for exchange or refund as appropriate (except for associated freight/shipping charges) within 30 days of purchase.
Damages
If the package appears to be damaged at the time of delivery you have the right to refuse it. Contact Canadian Pet Connection customer service to discuss the problem and arrange for replacement products. Please return all damaged shipping cartons for inspection by the courier or common freight carrier.
Does Canadian Pet Connection pay the return shipping cost for defective merchandise?
You, the customer, are solely responsible for paying the return shipping cost for defective or otherwise returned merchandise. We cannot accept COD returns. If you pay to send the item back to Canadian Pet Connection, we will replace the item and ship the replacement to you at no charge.
Is it mandatory to have an RMA number in order to return a product?
Canadian Pet Connection will not accept returns without prior authorization and a RPA (Return Product Authorization) number. Once issued, RPA numbers are valid for 15 days within which return products must be received by Canadian Pet Connection. RPA numbers will not be extended or reissued. The Customer should prominently display the RPA number(s) on the shipping label on the box(s) containing the returned product. Canadian Pet Connection Customer Service Representatives will assist you in completing all necessary RPA paperwork in order to return the merchandise to Canadian Pet Connection.
How do I acquire a Return Product Authorization number (RPA#)?
Please contact our customer service department to obtain an RPA number at:
1-844-799-PETS (7387)
What address should I send my return to?
Canadian Pet Connection. P.O. Box 3362
Meaford, Ontario
N4L 1A5
For more information, please use our online contact form or call 1-844-799-PETS (7387)