About Our Team: Lorne and Brandon Forder
Lorne Forder, President and Founder
Lorne Forder has been an active and influential member of the pet industry in Canada since the early 1990's. After more than 25 years working in the financial industry, Lorne left his executive position at a major Canadian financial institution and created Canadian Pet Connection in 1993.
In the late 1980's and early 1990's, Lorne (having three Labrador Retrievers at the time) recognized a significant market need; there were few, if any, pet retailers offering exclusively healthy, human-grade pet foods. Lorne established Canadian Pet Connection in Oakville, Ontario and began to change the way pet owners think about healthy pet lifestyles.
Prior to the opening of Canadian Pet Connection's first retail location in 1993, Lorne founded Pet Safety Concepts, a business dedicated to automobile pet safety. Pet Safety Concepts has been featured on Canadian national television shows "W5" and "Breakfast Television".
From winning obedience trial championships to the President and founding member of Labrador Retriever Rescue of Ontario, Lorne is well-versed in the art of entrepreneurship and customer service. Combine that with his love for animals and the result is a successful independent Canadian business serving people and their pets for more than two decades.
Brandon Forder, Vice President
Brandon Forder is a pet health professional and co-owner of Canadian Pet Connection, an industry leading pet supply company specializing in pet nutrition, health, behaviour and lifestyle. CPC was founded in 1994 by Brandon's father, Lorne Forder, when Brandon was only 14 years old.
Fast forward to today, and Brandon is now the face of a new generation of young pet health professionals working with top veterinarians, animal nutritionists, and animal behavioural experts around the world.
Pet health and nutrition has been his passion for almost 25 years, and he believes that education is the most important component for successful pet companionship. He has dedicated his life to educating his clients one-on-one about everything from understanding pet food ingredients, to managing health problems, and everything in between.
Brandon is dedicated to providing his clients with world-class knowledge and expertise regarding all things pets. He has written articles for several animal publications, magazines, blogs and newspapers–in addition to writing for the CPC Facebook page, Twitter profile and blog.
About Canadian Pet Connection:
Welcome to Canadian Pet Connection. Since our doors first opened in 1993, Canadian Pet Connection has always been a proudly independent and family owned pet industry leader. What began as one brick and mortar store located in Oakville, Ontario, evolved into two retail locations and a Canada-wide distribution warehouse. We have now grown away from the retail businesses in Oakville, and are a 24 hour online store. Our new retail outlet store opened in Meaford, Ontario in September of 2017.
Commitment to Excellence
Our mission at Canadian Pet Connection is to provide our clients with intelligent, unbiased and professional advice pertaining to pet health, lifestyle, behaviour, and pet grooming.  With over twenty years in business, we have grown to become Canada's most trusted independent pet specialty retailer, proudly supporting the healthiest and most well-respected products the pet industry has to offer.
Our steadfast commitment to setting the standard for responsible pet ownership has been reflected in dozens of industry awards dating back over two decades. We are proud to be in partnership with developers and manufacturers on the cutting edge of pet nutrition and product development.
Honesty and Integrity
Being an independent pet retailer in a highly competitive marketplace, we truly appreciate the value of an enjoyable shopping experience. You deserve the highest levels of personalized attentive service, and that's exactly what you'll get at CanadianPetConnection.ca.
Our Services and Products
We offer the industry's best quality brands, including natural and holistic pet foods, treats, vitamins and supplements, toys, pet grooming supplies, leashes and collars, training accessories, medical and dental pet products, cages and terrariums, and so much more.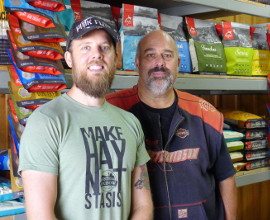 We provide expert healthful solutions for a myriad of pet ailments, including hip and joint stiffness, dog and cat dental health, pet anxiety, pet food allergies and sensitivities, diabetes in cats and dogs, and behavioural issues.
Canadian Pet Connection offers a wide range of products, with many new products being added to our online store daily. You can be confident that you'll find what you need for your dog, cat, bird, fish, reptile, mini pig, or small animal.
All of our products are promptly shipped from our distribution center in Meaford, Ontario. For Shipping information, click here.
Have a question? Contact Us!