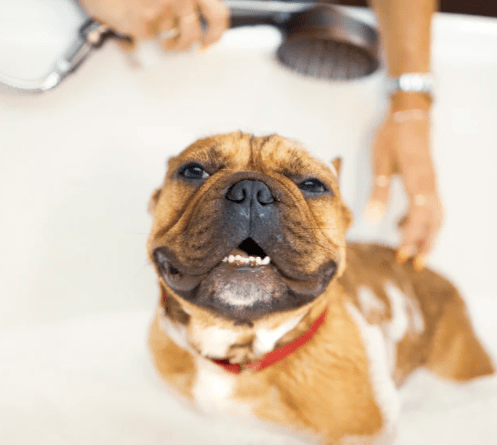 At Meaford Pet Grooming, we care about your pet's grooming experience. Grooming is about more than appearances and hygiene, it's a relationship built on trust and compassion. Every pet is unique, and so are their emotional and physical needs.
We work hard to ensure every pet in our care feels welcomed, safe, and loved. That's why our experienced professional groomers take the time to get to know your pet to create the most positive and pleasant experience possible.
Our head groomer Lisa has multiple years of professional pet grooming experience in Veterinary settings, specialized in-home locations for seniors and dogs with mobility problems, and grooming salons, too. Lisa specializes in a wide variety of gentle grooming techniques for pets of all breeds and sizes.
Lisa is focused on providing a professional and friendly grooming experience for all of our clients.
Services at Meaford Pet Grooming Include:
Bathing Services: May include nail trim, ear cleaning, gentle bath and drying, deep coat conditioning treatment, brushing, and a full coat brush out
Haircut Services: May include nail trim, ear cleaning, gentle bath and drying, brushing, a full coat brush out, and a trim or full cut based on breed and preferences
Double-coat De-shed Treatment: Includes nail trim, ear cleaning, two baths and a deep conditioning treatment to loosen undercoat, drying and brush out. This is a great service for high-shed dogs.
Tidy Trims: A face, feet, and sanitary trim; great for touchups between grooming appointments.
Puppy Sessions: Perfect for puppies as a gentle, positive introduction to the pet grooming experience
Exotic Pet Nail Trims: Ideal for exotic pets like guinea pigs, birds, rabbits, and reptiles
Consultations: We offer free grooming consultations and coat care advice for dogs of all shapes and sizes.
When it comes to pet grooming, there is no "one size fits all" technique. Every pet has their own unique needs, and we work diligently to provide a complete grooming package tailored just for them!
Meaford Pet Grooming is a subsidiary of Canadian Pet Connection. Try out Meaford's premier pet grooming salon!
Please note, due to COVID-19 restrictions, grooming services are currently on hold. Sign up for our advanced waitlist by calling (519) 538-2625, or e-mail [email protected]
Location:
Our grooming shop is located within the Canadian Pet Connection Pet Health & Wellness Center at:
278 Cook St, Unit 8
Meaford, Ontario
N4L 1H4