Shades of Gray Rabbit Rolls Indigenous Pet Treats
$24.99
Shades of Gray Rabbit Rolls Indigenous Pet Treats are a certified Aboriginal product by the Canadian Council for Aboriginal Business. They're made in Ontario by a small family business that compassionately farms their own rabbits. In fact, they worked with a Guelph University Veterinarian to create the ideal sustainable farming plan and barn environment. They keep their rabbits healthy, clean, and stress free, and it shows through their incredible tasting meats.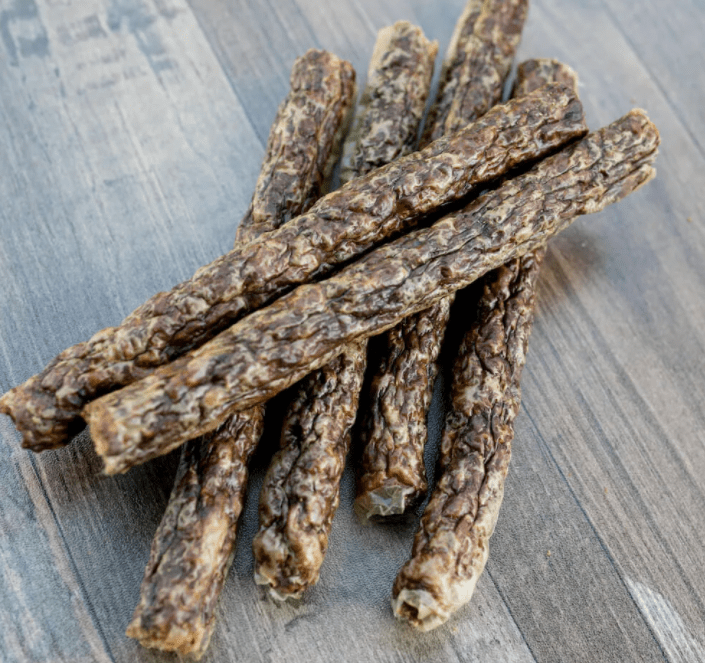 Shades of Gray Rabbit Rolls Indigenous Pet Treats are a gently dehydrated, raw treat. They're formed into a fun roll shape that your pet will love to chew on! They're safe for both cats and dogs. Delicious, wholesome rabbit is the only ingredient. This means they don't add any artificial colours, dyes, or preservatives. Plus, this is a grain free, gluten free, and also hypoallergenic treat. They're also made without the use of antibiotics or synthetic hormones. These organic treats are naturally slow dried. Available in a pack of 10.
Why We Recommend Shades of Gray Rabbit Rolls Indigenous Pet Treats:
A healthy, wholesome dehydrated raw pet treat
Made with compassionately grown Ontario rabbit
A certified Indigenous product
Free from gluten, grains, colours, dyes, preservatives, and antibiotics
A convenient resealable bag
Ingredients:
Organic, Indigenous grown rabbit from Ontario
Only logged in customers who have purchased this product may leave a review.