Carna4 Handcrafted Chicken Cat Food
$21.99 – $40.99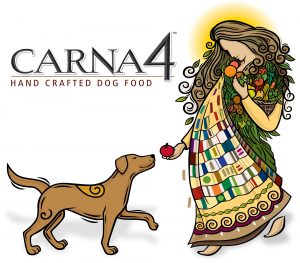 Carna4 Handcrafted Chicken Cat Food is made using a specially formulated blend of real, whole food ingredients, making it the highest quality ready-to-serve diet available. This means no synthetic ingredients ever, including synthetic vitamins or vitamin premixes, no by-products and no meat or bone meal, no additives, no fillers, and no fake foods.
Sprouted seeds give this food high nutrient, probiotic, enzyme and Omega-3 levels, previously found only in raw diets. It is ideal for all life stages, from kittens to senior cats, including pregnant and nursing cats. All ingredients in Carna4 formulas are grown in Canada and the US – never outsourced from other countries.
Carna4 Original Chicken is made from fresh chicken, liver, eggs and also herring from federally inspected plants, organic sprouted seeds (flaxseed, barley seed, lentils and peas) and small amounts of ground  fava beans and sweet potato for healthy fiber. Also cranberry for urinary tract health and kelp for well-balanced sea minerals. This formula is loaded with native probiotics, antioxidants and enzymes in their natural state for better absorption than laboratory-produced strains.
Your cats will love the taste! Carna4 cat foods are available online in Canada exclusively from Canadian Pet Connection. Available in 2lb and 4lb bags.
Why We Recommend Carna4 Handcrafted Chicken Cat Food:
A truly human grade, high quality cat food
The only cat food on the market that doesn't use synthetic ingredients
Made with the highest possible quality ingredients
A truly super premium cat food
Also Quality checked beyond regulatory requirements
Made with fresh, human grade ingredients, many of which are organic, too
Made with a taste even the pickiest cats will love
All ingredients are sourced from Canada or the US only – Never from overseas
Sprouted seeds boost bio-available amino acids, vitamins, minerals, enzymes, probiotics, Omega-3s and antioxidants to levels far exceeding AAFCO standards
No synthetic ingredients ever
Every batch of Carna4 for is tested 15 different pathogens and toxins, and nothing leaves their facility until thoroughly checked for safety
Ingredients:
Chicken, chicken liver, eggs, organic sprouted barley seed, herring, ground fava beans, sweet potato, organic sprouted flaxseed, organic sprouted lentils, organic sprouted peas, potato starch, kelp, cranberry, sea salt, sunflower oil, nutritional yeast, natural baking soda.
Guaranteed Analysis:
| | |
| --- | --- |
| Crude Protein |  40% |
| Crude Fat | 17% |
| Crude Fiber | 4% (max) |
| Moisture | 10% (max) |
| Ash | 5.2% (max) |
Feeding Guide:
BODY WEIGHT
CUPS PER DAY
KITTEN
CAT
2
1/2
1/4
4
2/3
1/3
7
1
1/2
10
1 1/3
2/3
13
1 1/2
3/4
16
2
1
Calorie Content: ME as fed Calculated – Chicken Cat Food Formula: 4,400 kcal/kg or 407 kcal/8 fl. oz. cup; Fish Cat Food Formula: 4420 kcal/kg or 409 kcal/cup.
Carna4 may be free-fed throughout the day or fed at specific meal times. Plenty of fresh, clean water should be available at all times.
To free-feed Carna4, fill your cat's bowl each morning with the recommended portion and make the bowl accessible all day. To feed by scheduled meals, divide the recommend daily portion by the number of meals fed. If you are using Carna4 in combination with other diets be sure to calculate the calories contributed from the foods and reduce the amount of Carna4 accordingly. Although Carna4 is a great complement to raw feeding, we do not recommend feeding Carna4 and raw in the same meal.
Transitioning to Carna4: It may take several days for your cat to adjust to the richer nutrients in Carna4. Start by mixing one part Carna4 to four parts of your cat's old food. Gradually increase the proportion of Carna4 over 7-10 days until you are feeding all Carna4.
For picky cats, take several Carna4 nuggets in your hands and rub them together. Then put the food away and pet your cat all over. Doing this 2-3 times BEFORE introducing the food makes the smell more familiar to your cat and increases the likelihood they will try a new food.
Your cat may have larger stools in the early part of his or her transition period as the better quality fiber in Carna4 helps to clean out the colon. This is a normal and healthy effect and you will see the stools return to a normal size later in the transition. When transitioning to Carna4 from another diet, try sprinkling in some Flora4 ground sprouted seeds food topper to help aid digestion and normalize stools faster.
Only logged in customers who have purchased this product may leave a review.