Tiki Cat Grill Canned Cat Food – Hawaiian – Ahi Tuna
$21.48 – $21.52
Tiki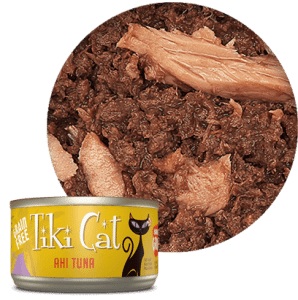 Cat Grill Hawaiian Canned Cat Food is a tasty and tempting meal made with real, wholesome ahi tuna. This delectable wet food starts with real, wild caught ahi tuna as the first ingredient. Mix that with some delicious tuna broth, and this shredded fish feast is everything your cat craves. Moist, brothy cat foods contribute to your cat's hydration, which in turn helps support their overall digestion, too. It also supports your cat's urinary health.
Tiki Cat Grill Hawaiian Canned Cat Food is made without grains or starches, making it biologically ideal for your cat. This real-fish cat food is also high in essential vitamins and nutrients, omega fatty acids, taurine, and everything else your cat needs to thrive. What's more, it's perfect for cats of any age, from kitten to senior.
Why We Recommend Tiki Cat Grill Hawaiian Canned Cat Food:
A healthy, human grade canned cat food
Made with only the best high quality, wild caught fish
Tasty ahi tuna shredded in a tuna broth is irresistable
Moisture content helps keep your furry friend well hydrated
Gluten and grain free
Ideal for cats of all ages
Only logged in customers who have purchased this product may leave a review.