Dog-Eh Skin and Coat Plus Dog Supplements
$64.99
In stock
Dog-Eh Skin and Coat Plus Dog Supplement is an all natural way to improve your dog's skin and coat. This holistic recipe can help to relieve itching and scratching, inflammation, excessive licking, and much more. It starts with high quality bee pollen, a natural antihistamine that can greatly reduce symptoms of allergies. Next, turmeric reduces inflammation and much more. Coconut oil soothes dry skin while providing a shinier coat, too.
Dog-Eh Skin and Coat Plus Dog Supplement is designed by an experienced agility trainer, with almost 20 years in the agility industry. It is common for agility trainers to make their own holistic supplements, because they know what really works! This formula is proudly made in Canada using premium quality ingredients. Available in a 250 gram pouch that will last the average canine 6 to 8 weeks.
Why We Recommend Dog-Eh Skin and Coat Plus Dog Supplement:
An all natural, holistic approach to allergy relief
Powerful natural antihistamine and anti-inflammation properties
Reduces dry skin, itching, and scratching
Leaves a shinier skin and coat
Proudly made in Canada
Ingredients:
Bee Pollen, Turmeric, Coconut Oil
Feeding Guide: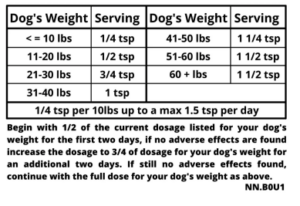 Only logged in customers who have purchased this product may leave a review.