Earth Rated Lavender Scented Dog Poop Bags – 315 Count
$19.99
Earth Rated Poops bags are an eco friendly dog poop disposal option. These high quality bags are affordable, too! In fact, they cost just pennies per bag. The 315 count box is their biggest box available, making it the best value, too. The refreshing lavender scent makes poop pick-up a pleasant experience. These light-weight bags are tough, thick, and durable, so you don't have to worry about broken bags. They're easy to detach from the roll, and also fit in the Earth Rated Dispenser.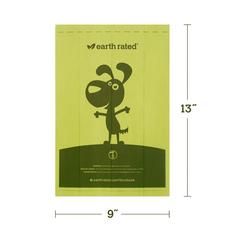 Why We Recommend Earth Rated Lavender Scented Dog Poop Bags 315 Count:
An Earth Rated value box
Perfect on their own, or in the Earth Rated Dispenser
Lightweight, yet still thick and durable
A pleasant lavender scent
Eco-friendly
A high quality poop bag that is also affordable
Only logged in customers who have purchased this product may leave a review.